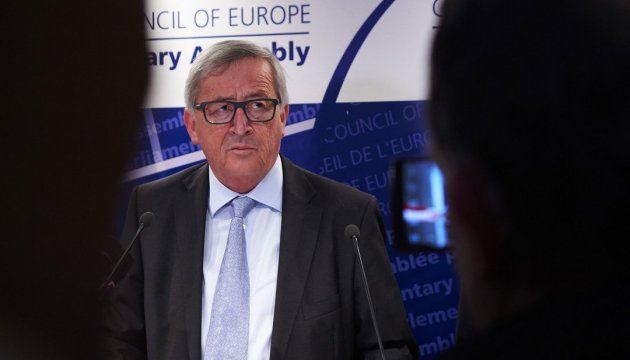 Ukraine asks European Commission to explain Juncker's statement
Ukraine's representative to the EU Mykola Tochytsky has asked the leadership of the European Commission to provide explanations on a statement made by EC President Jean-Claude Juncker regarding Ukraine's future membership of the EU and NATO.
"Ukraine's Representative to the EU Mykola Tochytsky sent a letter to the European Commission's leadership asking for explanations regarding a statement made by President of the European Commission Jean-Claude Juncker during an annual EU Ambassadors Conference in Brussels," Ukraine's Mission to the EU told an Ukrinform correspondent.
Tochytsky told Ukrinform that the issue concerned a statement by Juncker, which was widely spread in the Russia media. "A few days ago I saw that my friend [President Petro] Poroshenko said that Ukraine is the European Union, and it is NATO. At the moment, it's neither one nor the other, and I think we do need to bear this in mind," Juncker said.
In this connection, Tochytsky drew attention to a statement by Poroshenko who, in his speech on the occasion of the 26th anniversary of Ukraine's independence, noted the "unchanged strategic course of Ukraine for integration into European and Euro-Atlantic structures."
At the same time, Tochytsky expressed concern that the words of the European Commission president had been widely used by the Russian propaganda media in an information campaign aimed at discrediting Ukraine and its EU integration course.
This happened on the eve of the entry into force of the Association Agreement between Ukraine and the EU.
op