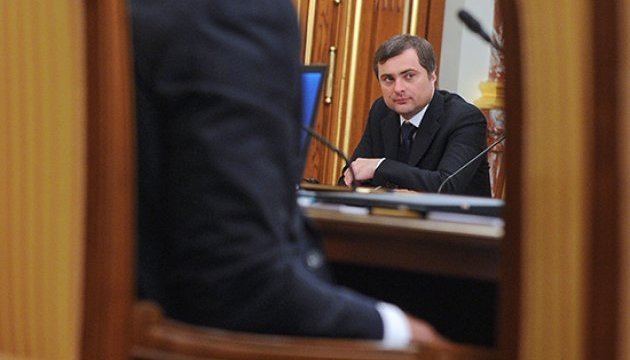 Talks between Volker and Surkov started too early
Russia is supposedly ready to leave Donbas. But under what conditions is a key question, not secondary.
Minsk hosted a long-awaited meeting between U.S. Special Representative for Ukraine Kurt Volker and Russian presidential aide Vladislav Surkov. It was agreed that the meeting would be held behind closed doors, and it was really private. But after the talks, the Russians immediately spread their comments, and not only Interfax citing an "unnamed source," but also Surkov himself. Volker said nothing, but it seems that Surkov was not going to remain silent. "We agreed that the current situation in Ukraine can satisfy neither the conflicting sides, nor the external forces promoting the resolution. The discussion was led in the tone of mutual respect and interest, honestly, seriously without illusions or bias. The commitment to the Minsk agreements was not questioned, both sides came up with fresh ideas and innovative approaches to implement them."
Surkov did not say anything concrete, formally fulfilling the preliminary agreement by the sides on non-disclosure of the content of the negotiations. However, the Russians would betray themselves if they did not use the opportunity to obtain purely propagandistic benefits from the general impatience of the public to find out at least something about the outcome of the meeting. Surkov's comment is full of propaganda theses favorable for Russia - "south-east Ukraine," "external forces" (Surkov obviously means Russia here), "mutual respect," "without illusions," "fresh ideas," "the commitment to the Minsk agreements." And most importantly, Surkov clearly showed optimism.
In Vilnius, Volker also said something to journalists. He did not comment on the meeting in Minsk, but when speaking about the situation in Donbas, he said that now it was necessary to do everything to stop human suffering as the conflict has killed about 10,000 people. According to him, this is a challenge not only for Ukraine, these are risks for the whole of Europe. Nothing concrete, as is the case with Surkov.
However, it is not necessary to hope that the American or the Russian will say something concrete from their meeting. The talks have just begun, so there can be nothing concrete. But the very fact that the United States and Russia began negotiations on the Ukrainian question is worth our attention.
An optimistic assessment by Surkov of a meeting with Volker in Minsk is not accidental. These are not just complimentary words that diplomats usually exchange at the beginning of any talks, and which usually mean nothing but courtesy. Russia is really pleased that the U.S. began direct negotiations on Donbas now that Russia has not yet exhausted the margin of strength, and the anti-Russian sanctions have not yet resulted in a truly deep crisis in the Russian economy (and therefore the stability of the Russian political regime). Today, Russia can still put forward harsh conditions on the negotiations. Tomorrow, and even the day after tomorrow, it will be much harder to do it. Russia does not want to fight the whole world. Its purpose is to frighten the world with a demonstration of readiness to fight and, using this fear, bargain at the talks as many different geopolitical and economic dividends as possible.
On August 21, Ukraine's Deputy Minister for Temporarily Occupied Territories and Internally Displaced Persons Yuriy Hrymchak, live on Channel 5, suddenly brought some happiness to the audience with a categorical conclusion relating to the Minsk meeting between Volker and Surkov: "I think that the decision on Donbas, to a great extent, has already been made. They will go away. The only thing that is being discussed now is how they go away, under what conditions, etc." It sounds like our unconditional victory.
We will not say that the deputy minister is too optimistic, that it is unlikely that Russia has unequivocally agreed to leave Donbas, and the main thing is that the question "under what conditions" is something minor.
Let's imagine that Surkov told Volker "Okay, we get out of Donbas, withdraw our troops, and stop financial support for DPR/LPR." But then he will definitely add: "But what do we get for this? We would need something." It is obvious that the size of these Kremlin "needs" will be the biggest at the moment. Our trouble is that Volker cannot answer Surkov: "You will get nothing. You will pay. And if you do not get away from Donbas, we will turn off the gas tap... that is SWIFT." So far the most decisive statement that we heard from the United States is: "to continue to press Russia on its Minsk commitments. And that includes an immediate cease-fire, withdrawal of heavy weapons, and unfettered access by the monitoring -- that's the OSCE monitors there" (U.S. Secretary of Defense James Mattis). More important for solving the Donbas problem, as it corresponds to Ukraine's national interests, would be not talks between Volker and Surkov, but supplies of U.S. anti-tank weapons to the Ukrainian army. If the U.S. secretary of defense gives his consent in Kyiv today or tomorrow, then we do not need any other anti-Russian statements from him.
Since SWIFT is not currently mentioned by the U.S., we can easily imagine the following. Russia agrees to get away from Donbas in exchange for the fulfillment by Ukraine of the terms of the Minsk agreements - a special constitutional status of Donbas, which will mean the Kremlin's full political control over this part of Ukraine. In other words, do we actually agree to end the war on the enemy's terms? And even if we do not approve this status, even if we manage to completely take control of Donbas over time (if there are no Russian troops there, then this is not too complicated), then what happens? Russia came to Donbas, killed thousands of our citizens, drove hundreds of thousands out of their homes, destroyed the economy of the region, took away the best industrial equipment, in a word, left a ruin after itself. And now it just left us this ruin without paying anything for it, they say – now it's now the case for Ukraine to rebuild everything here, and we are peacekeepers - "an external force that contributed to the settlement." (By the way, Ukraine estimates the damage from Russia's occupation of Crimea at over a trillion hryvnias).
Who will guarantee that Ukraine will not be forced to fulfill all these already existing Russian-American demands? And almost certainly Russia will bargain at least the weakening of sanctions for withdrawing troops from Donbas. Will it be a victory for Ukraine?
But it will indeed be a victory for the United States and the West. They have achieved what they wanted - extinguished the potential fire of a great war in Europe. They will celebrate, and we?
Yuriy Sandul. Kyiv