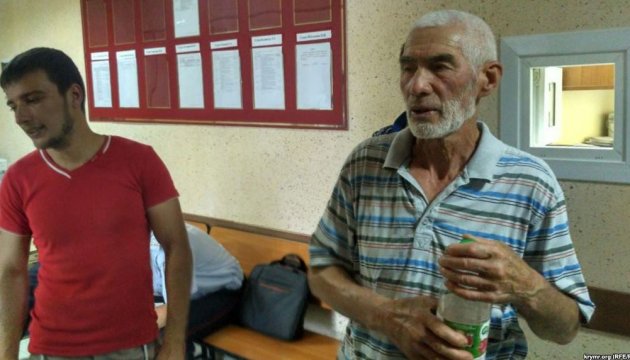 One-man protests in Crimea: Elderly activist Davlatov fined RUR 10,000
Elderly Crimean resident Yarikul Davlatov, who was arrested by Russian security forces on August 14 and tried in the Kremlin-controlled district court in Simferopol, was found guilty and fined RUR 10,000.
Crimean lawyer Edem Semedliaev posted this on his Facebook page.
"Yarikul Davlatov was found guilty and fined RUR 10,000," the lawyer wrote.
Yesterday, several elderly Crimean Tartars held one-man protests in Simferopol in occupied Crimea to support 76-year-old Server Karametov. Russian police almost immediately started to arrest the activists. According to recent reports, nine people were detained, most of whom were released with the help of lawyers. However, the police still drew up an administrative protocol against Yarikul Davlatov and appointed a court hearing in his case.
As reported, August 8, Server Karametov held a one-man protest action near the Supreme Court of Crimea in Simferopol, expressing support for Mejlis deputy chairman Akhtem Chiygoz who now stands trial for participating in the rally in support of Ukraine's territorial integrity on February 26, 2014.
Two administrative protocols were drawn up against Karametov, particularly on violation of procedure for holding one-man protest action and on resistance to police officers.
August 9, the district court in Simferopol sentenced activist Server Karametov to ten days of administrative arrest for "resistance to police officers."
ol