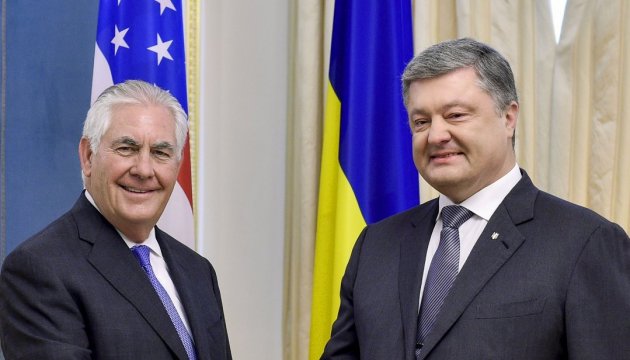 U.S. secretary of state expects progress in Ukrainian settlement
U.S. Secretary of State Rex Tillerson has said he hopes that the Normandy group countries, in interaction with the United States, can make progress in resolving the situation in eastern Ukraine, first of all, in achieving a ceasefire.
He said this at a briefing in Washington on Tuesday, an Ukrinform correspondent reports.
"We are hopeful we can make some progress in beginning to move the situation in Ukraine to a place of engagement and movement towards achieving a true ceasefire," Tillerson said.
He recalled that the U.S. administration had appointed former U.S. ambassador to NATO Kurt Volker as a special representative for the Ukrainian settlement.
"Kurt's a very experienced ambassador, diplomat to the area. He knows the area well, he knows Russia well," Tillerson said.
He noted that the State Department was expecting active interaction with the authorities of Ukraine and Russia, as well as with other members of the Normandy format.
Tillerson also clearly outlined the position in relation to Russia in this matter.
"We have been very consistent in our messages to Russia that the Minsk accords must be achieved, they must be implemented, otherwise nothing can be done about the sanction situation in Ukraine," he said.
op