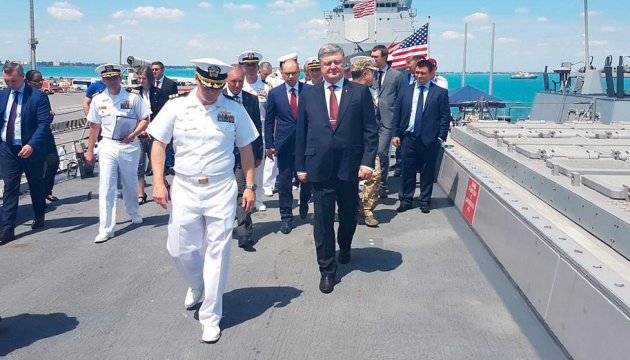 President gets acquainted with course of Sea Breeze 2017 exercises in Odesa region
President Petro Poroshenko got acquainted with the course of the Ukraine-USA command-and-staff training exercises with the involvement of the Sea Breeze troops.
This has been reported by the press service of the Head of State.
The Head of State visited Ukrainian frigate Hetman Sahaydachny.
The President also met with a crew of the guided-missile destroyer USS Carney.
As reported, the Sea Breeze exercises are multinational military exercises that have been held in Ukraine since 1997 according to the memorandum of understanding and cooperation on defense and military relations between the Ukrainian Defense Ministry and the U.S. Department of Defense.
Three Turkish ships, including a submarine, arrived at the Odesa port on Sunday, July 9, to participate in the Sea Breeze 2017 exercises.
ish