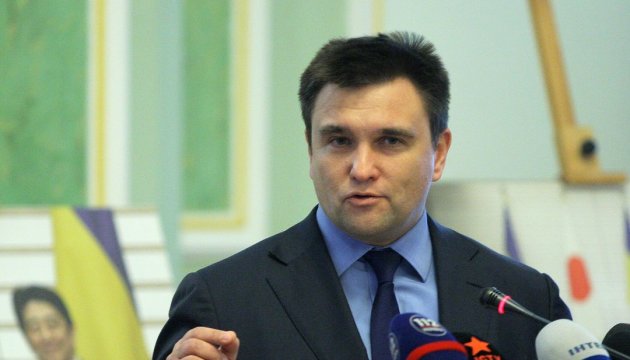 Visas with Russia to create problems for Ukrainians from occupied territories - Klimkin
Ukrainian Foreign Minister Pavlo Klimkin believes that the possible introduction of visas with Russia will create problems for the movement of Ukrainians from the occupied territories.
He said this during an hour of questions to the government in the Verkhovna Rada on Friday, an Ukrinform correspondent reports.
"The usual introduction of visas will not give us the desired effect. On the contrary, it [the visa regime] will create significant problems, because Russia will use these problems to make provocations and conduct conscious policies on restrictions for Ukrainian citizens living in the occupied territory, in the territory of the occupied Crimea, and moving to the territory of Ukraine," the minister said.
Klimkin stressed that in this regard, on the basis of a detailed analysis, the National Security and Defense Council had decided to introduce a system for taking biometric data from foreigners and stateless persons on the border with Ukraine. According to him, this system will help effectively control movement through Ukrainian territory.
As earlier reported, on July 10, the National Security and Defense Council made the decision on the crossing of the Ukrainian border with biometric passports, as well as the mandatory collection of biometric data from citizens of other countries and stateless persons, except for the states with which Ukraine has the relevant agreements.
Secretary of the National Security and Defense Council Oleksandr Turchynov said that the introduction of biometric control for foreigners at the crossing of the Ukrainian border could be completed by the end of 2017.
op