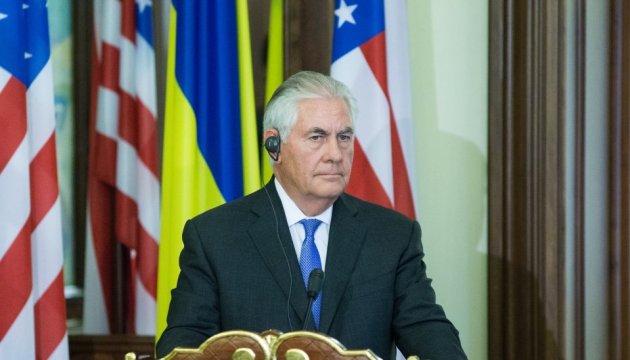 Tillerson: Russia should make first step towards de-escalation in Donbas
Russia should make the first step towards de-escalating the situation in eastern Ukraine, in particular, by obliging the militants to immediately stop violating the cease-fire and ensuring unhindered access to the OSCE throughout the entire territory, including along the border.
U.S. Secretary of State Rex Tillerson told this to reporters in Kyiv on Sunday after a meeting with Ukrainian President Petro Poroshenko, an Ukrinform correspondent reports.
"In my discussions with Russian leadership on more than one occasion that it is necessary for Russia to take the first steps to de-escalate the situation in the east part of Ukraine, in particular by respecting the ceasefire, by pulling back the heavy weapons, and allowing the OSCE observers to carry out their responsibilities," he said.
Tillerson stressed that this was necessary for the United States "to make any movement" in settling the situation in Donbas.
"We are disappointed by the lack of progress under the Minsk agreement, and that is why we are appointing a special representative to put additional emphasis. We will be coordinating carefully with the Normandy members as well along with yourself and with the Russian Federation Government to see if we cannot make progress and make progress in a more prompt fashion as well. We do call on Russia to honor its commitments that were made under the Minsk accords and to exercise influence over the separatists in the region whom they do hold complete control over, and we call on them, again, to immediately call on their proxies to cease the violence that is ongoing in east Ukraine. Again, we call on them to allow the monitors full access to all areas to perform their mission not only along the line of contact but ultimately along the border itself," he said.
Tillerson also spoke about U.S. goals regarding the situation in Ukraine.
"I think it is important to be very clear on what our goals are, the United States' goals are, with respect to the situation here. And first and foremost, it is to restore Ukraine's territorial sovereignty and integrity.... We also think it's very important that we seek the safety and the security of all Ukrainian citizens regardless of their ethnicity, their nationality, or their religion," he said.