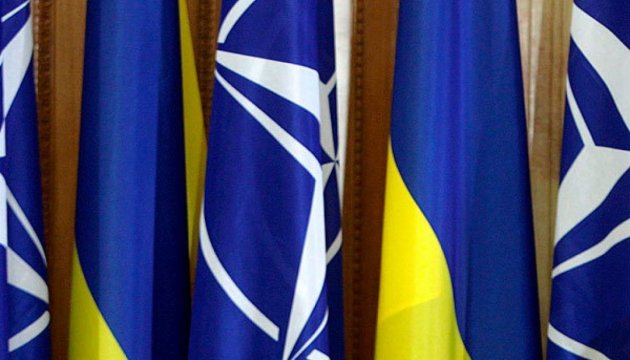 Verkhovna Rada passes law on Ukraine's course towards NATO membership
Ukrainian lawmakers have passed the draft law No. 6470 "On Amending Certain Legislative Acts of Ukraine (on Foreign Policy Course of Ukraine)."
As an Ukrinform correspondent reports, the draft law was supported by 276 MPs.
"Ukraine has sufficient political and legal preconditions for full institutional rapprochement with the North Atlantic Alliance, including the well-known decision of the 2008 Bucharest Summit on the unequivocal recognition of the future membership of Ukraine in this organization, the need for which is an undeniable imperative of the time," reads the explanatory note to the bill.
It is also noted that this legislative initiative aims to amend the laws of Ukraine "On Principles of Domestic and Foreign Policy" and "On Principles of National Security of Ukraine" to restore Ukraine's purposeful pragmatic course towards gaining NATO membership as a strategic foreign policy priority of the state.
"The adoption of the law will help expand and deepen Ukraine's cooperation with the North Atlantic Treaty Organization, strengthen the national security of our country and result in providing guarantees of its sovereignty and territorial integrity," the document says.
"Currently, NATO is the most effective and the only organization in the world which can stop Russian aggression," co-author of the bill, Verkhovna Rada Speaker Andriy Parubiy noted.
"In recent years, the Ukrainian army has become one of the most efficient armies in Europe and, therefore, I am convinced that Ukraine's joining NATO is now equally important both for Ukraine and for the North Atlantic Alliance," Parubiy said.
ol