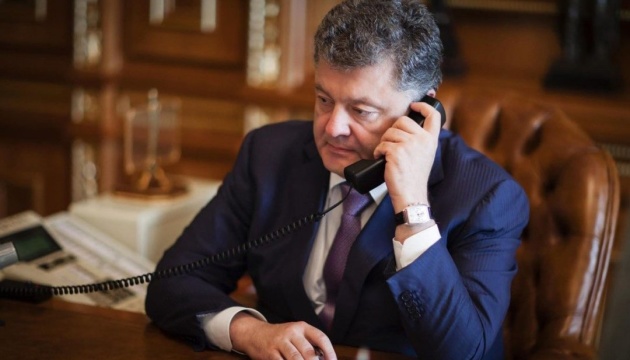 President Poroshenko calls for maintenance of unified international front against Russia
President of Ukraine Petro Poroshenko held a telephone conversation with U.S. Secretary of State Rex Tillerson.
This is reported by the press service of the Head of State.
Petro Poroshenko expressed condolences to family and friends of an American OSCE monitor, who was killed when SMM patrol car was blown up at the occupied territory today. He also condemned all forms of constant impediment to SMM OSCE operation.
"The President of Ukraine offered to activate discussions on deployment of UN international peacekeeping mission in Donbas. The interlocutors discussed results of Normandy telephone conversation of April 18 and U.S.-Russian talks that had taken place in Moscow on April 12. Petro Poroshenko expressed gratitude for firm and unwavering position of the United States to continue supporting Ukraine based on principle 'nothing on Ukraine without Ukraine'," the statement reads.
The parties expressed concern over dangerous developments in Donbas and they noted importance of Minks agreements implementation, particularly its security components.
The Ukrainian Head of State called for maintenance of a unified international front to continue sanctions policy on Russia until Ukraine's sovereignty and territorial integrity are fully restored.
The sides discussed issues of cementing strategic partnership between Ukraine and the United States as well as a schedule of bilateral contacts, including at the highest level.
ol