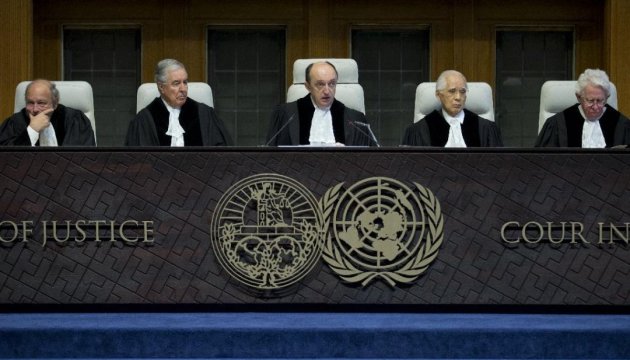 Information Policy Ministry announces Top 5 Russian lies in UN International Court of Justice
The Information Policy Ministry has announced five main facts of Russian lie at the ICJ in The Hague.
Deputy Head of the Information Policy Ministry Dmytro Zolotukhin wrote this on his Facebook page.
"Events in the east of Ukraine are not a military aggression but an internal Ukrainian conflict – it is a LIE. In fact, the creation, financial support and military training of the relevant paramilitary organizations in Donbas were carried out by the Russian forces in 2009 in the context of preparations for active actions against Ukraine," Zolotukhin cited the first fact of the Russian lie.
In addition, according to him, the state bodies and public organizations of Ukraine have provided and continue to provide gigabytes of evidence of the presence of Russian troops in the sovereign territory of Ukraine.
According to the deputy minister, it is a lie that MH17 could be shot down by the Ukrainian military, which Russia claims could be also deployed in close proximity to the disaster site. "The investigators have long established all the facts and aspects of the way the BUK-M1 missile launcher, which killed 298 people, was brought to the territory of Ukraine from Russia, being under the control of Russian mercenaries and terrorists controlled and sponsored by them, and launched a missile from an already established location," the deputy minister noted.
The Russians have lied in The Hague that there are no Russian weapons and troops in Donbas. Zolotukhin has noted that governmental and non-governmental organizations, journalists, experts and volunteers have already collected gigabytes of evidence that representatives of Russian regular military units were present in Donbas, used weapons, took part in combat clashes, supplied weapons and heavy equipment of Russian origin to terrorists.
The Russian delegation has also lied about the fact that Ukraine does not adhere to the Minsk agreements. "The escalation in Avdiivka was provoked by pro-Russian terrorists five hours after a telephone conversation between Vladimir Putin and Donald Trump. Volunteers recorded armored vehicles and heavy artillery in close proximity to the contact line, which violated the norms of agreements within the framework of the Minsk deal," the deputy head of the Information Policy Ministry said.
The Russian delegation was the most cynical when it said that the current so-called "blockade" in Donbas showed "that Ukraine itself is a sponsor of terrorism." At the Ukrainian enterprises, which the Russians have not yet managed to steal, citizens of Ukraine have been working, and they receive salaries and pay taxes to the Ukrainian budget. Those citizens of Ukraine are held hostage by terrorists and need help of the international community and protection in the international court!" Zolotukhin stressed.
ish