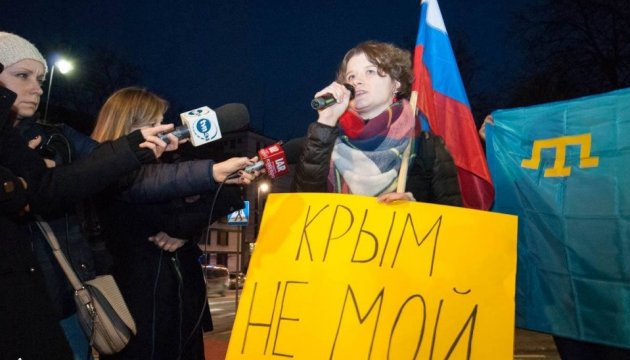 Protest against Russian occupation of Crimea held in Warsaw. Photos
The rally of solidarity with the political prisoners in Crimea was held near the Russian Embassy in Warsaw.
As an Ukrinform correspondent reports, the rally participants were holding the banners reading "Free Crimea" and "Crimea-Warsaw – common cause". As noted, Crimean Tatars, Ukrainians, Poles, and Russians took part in the event.
"Despite already the third anniversary of the occupation and annexation of Crimea, we, the Crimean Tatars, Ukrainians, and our friends around the world, will never accept this and will never stop fighting for free Crimea, for Crimea as part of Ukraine," said rally organizer, member of the Coordination Council of the World Congress of Crimean Tatars Nedim Useinov.
The activists marched from the Russian Embassy along the Belvedere presidential palace, the Council of Ministers, and Foreign Ministry of Poland towards the Embassy of Ukraine in Warsaw, where they met with Ukrainian Ambassador to Poland Andriy Deshchytsia and Vice Prime Minister of Ukraine Vyacheslav Kyrylenko, who was on a visit to Poland.
ol