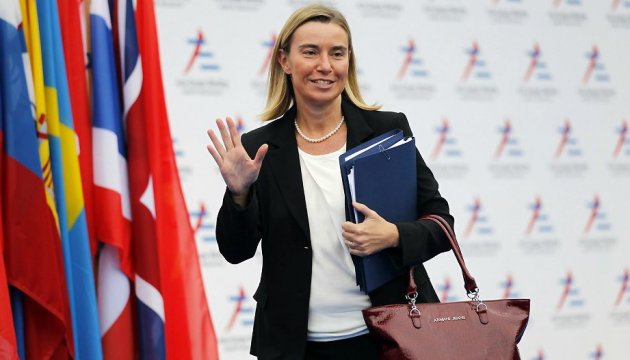 Federica Mogherini: EU not going to change its principled position on Ukraine
The European Union is ready to cooperate with Russia in some spheres, but its position regarding Ukraine remains principled, High Representative of the EU for Foreign Affairs and Security Policy/Vice-President of the European Commission Federica Mogherini has stated.
"You know, the European Union has a very principled position on the illegal annexation of Crimea and the situation in Ukraine. This is not going to change, regardless of possible shifts in others' policies," she said at the end of the informal dinner of the EU Foreign Ministers on November 13, an Ukrinform correspondent reports.
At the same time, she noted that the EU cooperates with Russia on the issues regarding Iran, the situation in Middle East, peace process in Libya, and the International Support Group for Syria.
"So, I would invite you to avoid any black and white representations of our relationship with Russia. On one side, there is dialogue and engagement – what we call constructive but also selective engagement on some issues; on the other side there is a strong principled position especially on Ukraine and on the other conflicts that we have to our East; and our attention to our Eastern partners is going to stay and stay strong," Mogherini said.
iy