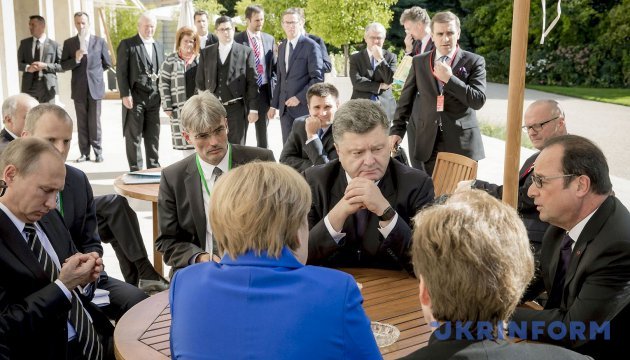 Leaders of 'Normandy format' states to meet in Berlin on October 19
The leaders of the 'Normandy format' states will meet in Berlin on October 19.
The relevant agreement was reached during the telephone conversation on Tuesday between President of Ukraine Petro Poroshenko, President of France Francois Hollande, and Chancellor of Germany Angela Merkel, the press service of the Ukrainian President reports.
"The interlocutors agreed to conduct a meeting of the Heads of State in the Normandy format in Berlin on October 19 in order to induce Russia to fulfill the security part of the Minsk agreements," the statement reads.
As noted, the phone conversation in trilateral format was held during stay of President Poroshenko in Norway on the official visit.
"The parties discussed the security situation in Donbas. The Ukrainian President emphasized the importance of common position of Ukraine and the EU countries on the eve of the European Council's Summit that will take place in Brussels on October 20-21, 2016 and consider the strategy of relations with Russia," the statement says.
ol