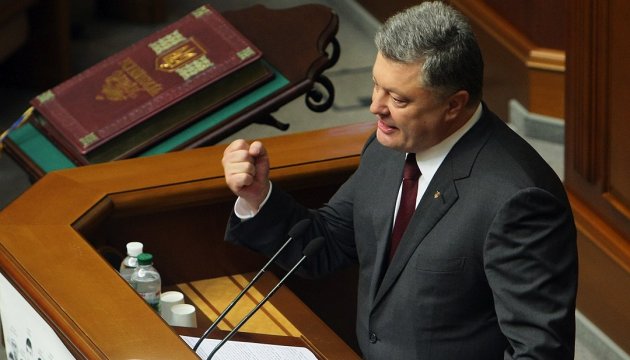 President: Ukraine not to comply will political part of Minsk agreements until security issues are solved
President of Ukraine Petro Poroshenko has stated that Ukraine will not perform the political part of the Minsk agreements until the security package is fulfilled.
The President said this in Chuhuyiv town in Kharkiv region on Saturday, while handing over the military equipment to the army, an Ukrinform correspondent reports.
"The enemy's attempts to violate the Minsk agreements continue. Someone is trying to add critics to Minsk [agreements]. I have stressed and stress again: this Minsk plan envisages clear measures and criteria. Ukraine would not go ahead in the political process until the security element, the security package is observed," the President said.
He reminded that that the security package provided for the full ceasefire, withdrawal of foreign military servicemen from the Ukrainian territory, transfer of the Ukraine uncontrolled sections of the Ukrainian-Russian border first to OSCE and then to the Ukrainian government, removal of heavy weapons and unfettered access of OSCE monitors to the entire territory.
ol