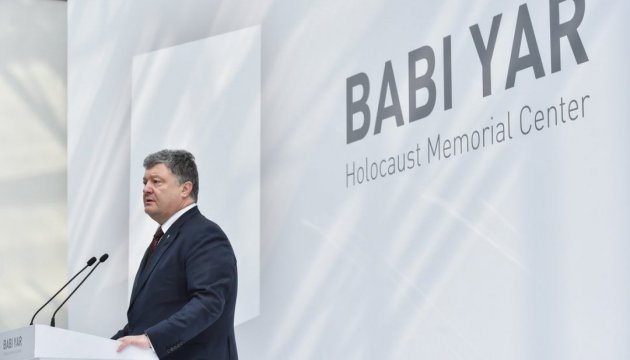 "Babi Yar" Memorial should be a symbol of unity of nations – President Poroshenko
Today on the 75th anniversary of the Babi Yar tragedy, Ukrainian President Petro Poroshenko has taken part in the ceremony of signing a declaration on establishing the Memorial Center of Holocaust Victims "Babi Yar".
The ceremony was held in Taras Shevchenko National Museum of Kyiv, the president's press service reports.
"75 years have passed since that tragic date, and Ukraine still has no memorial at Babi Yar. The memorial should be a place of powerful inoculation, so that this tragedy can never happen again, a symbol of honor and respect for all Ukrainians, regardless of their nationality," he said.
According to President Poroshenko, the creation of the Memorial to Holocaust victims will be of great importance to the world and will promote establishing humanistic values and studying historical truth.
"This Memorial should be a symbol of unity of nations," Poroshenko stressed.
iy