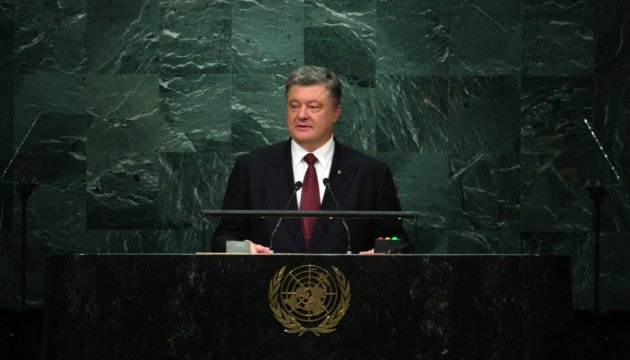 President of Ukraine calls on UNICEF to prevent abuses of children in occupied areas in Donbas
Ukrainian President Petro Poroshenko speaking at the 71st session of the UN General Assembly in New York on Wednesday called on the United Nations Children's Fund (UNICEF) to tackle the situation with teenagers who have been taken hostage in occupied areas in Donbas, the president's press service reports.
"We were shocked to know that recently Russia-backed illegal armed formations in the occupied areas of Donbas took children hostages. They showed a video of interrogation of teenagers who they absurdly accuse of conspiring and carrying out subversive operations. This behavior is out of place in the 21 century. We call on UNICEF to intervene and prevent abuses and tortures of these children," President Poroshenko stated.
He also noted that in its third year, the aggression against Ukraine continues bringing pain and suffering to the Ukrainian people.
"2, 430 people have been killed. Significant part - over the past year. The total death toll of this war in the heart of Europe inflicted on us has amounted to 2,500 military and 7,500 civilians. Altogether 10,000 people. Hundreds of hostages remain in unlawful captivity in Donbas and in Russia," President Poroshenko said and called on the world leadership to influence on the country-aggressor.
iy