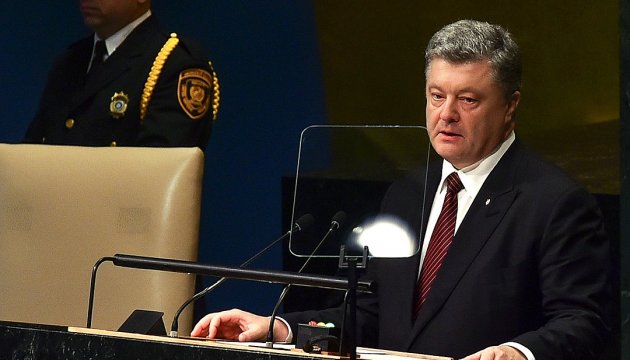 President Poroshenko: World failed to pass exam with the Budapest memorandum
Ukrainian President Petro Poroshenko has said that the non-fulfilment of the Budapest Memorandum is not only the defeat of Ukraine, but of the entire democratic world too.
"Let's be frank, we failed to pass exam with the Budapest memorandum. Then democratic world lost its first battle – it was not only about Ukraine, but also about credibility of agreements. However, Ukraine as a responsible international actor has always been and remains a committed advocate of nuclear non-proliferation and disarmament," President Poroshenko said at the 71st session of the UN General Assembly in New York on Wednesday.
He recalled that Ukraine voluntarily dismantled its own nuclear arsenal, the third largest in the world in exchange for security, sovereignty and territorial integrity assurances under the 1994 Budapest Memorandum. "Regretfully, all these assurances remained just a piece of paper," President Poroshenko noted.
Thus, timely and effective action of the international community – the Security Council in the first place – in response to the North Korean nuclear test is one more exam for all of us, the Head of the Ukrainian state noted.
"We must not allow plunging the world into a new nuclear arms race. Huge global instability and ever-growing security challenges increasingly demand strong leadership both in states and in international organizations. The United Nations is no exception," President Poroshenko stated.
iy