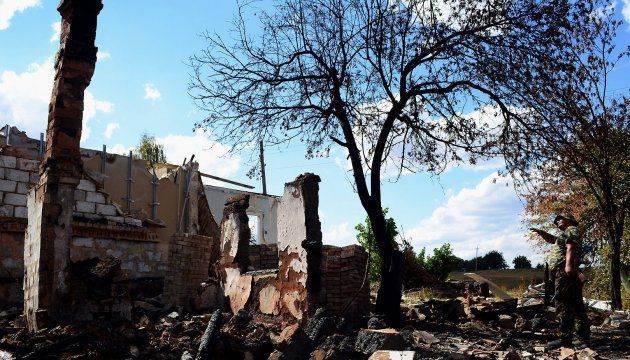 UN statement: Casualties in Donbas highest since August 2015
The United Nations says that the number of casualties in fighting in Donbas, eastern Ukraine, have reached the highest rate since August 2015.
UN High Commissioner for Human Rights Zeid Ra'ad Al Hussein in a statement on Wednesday called on all sides of the conflict to pay priority attention to the protection of civilians and take urgent steps to de-escalate the increasingly tense situation at the contact line.
"The escalation of hostilities and the accompanying civilian casualties in eastern Ukraine over the last two months are very worrying. Civilians are once again having to flee to improvised bomb shelters in their basements, sometimes overnight, with increasing frequency – the price of the ceasefire violations is too high for the women, men and children in eastern Ukraine," High Commissioner Zeid said.
Thus, the UN Human Rights Office documented 69 civilian casualties in eastern Ukraine in June 2016, including 12 dead and 57 injured. This was nearly double the figure for May 2016 and the highest figure since August 2015.
In July, the figure rose further to 73 civilian casualties, including eight dead and 65 injured. The monthly average for June and July this year, at 71, was more than double the monthly average of 34 in the nine months between September 2015 and May 2016.
"The many casualties we have documented in recent weeks suggest that neither Ukrainian forces nor the armed groups are taking the necessary precautions to protect civilians. We urge all sides to respect the ceasefire provisions, to remove combatants and weapons from civilian areas, and to scrupulously implement the provisions of the Minsk Agreements," Zeid Ra'ad Al Hussein said.
In addition, the High Commissioner noted that Ukraine has committed to ratify the Rome Statute of the International Criminal Court, but has yet to do so.
In total, from mid-April 2014 to 31 July 2016, the UN Human Rights Office has documented 31,690 casualties, including 9,553 killed and 22,137 injured in the conflict area in eastern Ukraine. This includes Ukrainian armed forces, civilians and members of the armed groups.
iy