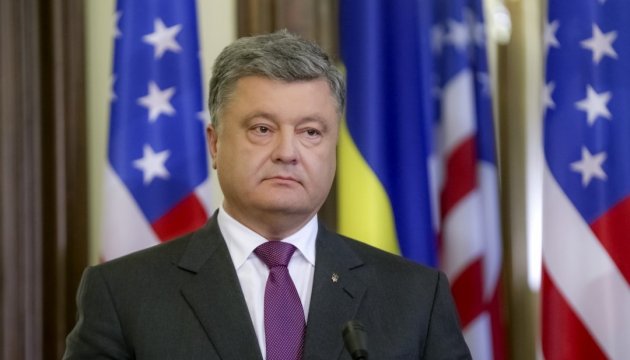 President Poroshenko: Ukraine considers the U.S. as a key ally in tackling security challenges
Ukraine considers the United States as its key ally in resolving security challenges in the international arena, Ukrainian President Petro Poroshenko ha said at a joint briefing with U.S Secretary of State John Kerry, Ukrinform has reported.
"We have noted that the United States is and remains a key ally of Ukraine in the international arena in the context of overcoming security challenges. We share common values, a common understanding that the civilized world can effectively resist the attempts to destabilize the global system of international security and cooperation only by being united," Poroshenko said.
"For the Ukrainian people it is vital to realize that while battling the complex external challenges we have a strong strategic partner by our side. We hope that [U.S.] Congress and the new [U.S.] Administration will proceed with the principle of continuity and effective support for Ukraine because our success is ultimately your success and success for both our countries. We act according to this principle," Ukrainian President noted.
"We, Ukrainians, are committed to the implementation of the Minsk agreements, which we consider the road map for peaceful settlement in Donbas. However we have emphasized this [issue] before, and we are emphasizing it now, there can't be any effective settlement without reaching permanent and comprehensive security. We believe that the security component is a key component of the Minsk agreements and insist on its resolute implementation. Political process has perspectives only if a proper level of security is provided. This is a key position of Ukraine, and this logic and approaches are being supported by our allies," the President said.
tl