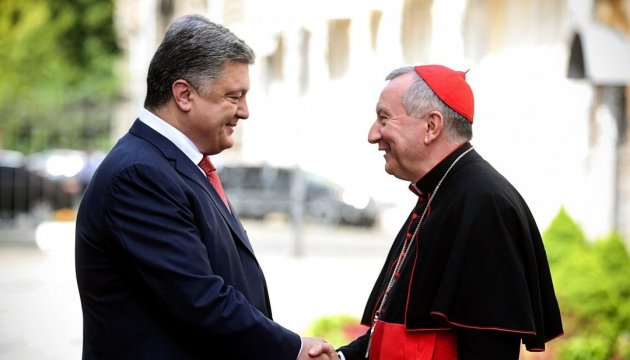 Poroshenko: We appreciate efforts of Pope Francis aimed at establishment of peace in Ukraine
Following the meeting with Cardinal Secretary of State of the Holy See Pietro Parolin, President Petro Poroshenko noted that Ukraine and the Vatican City have an efficient dialogue.
The press service of the Head of State reported.
"We sincerely appreciate the efforts in the sphere of public diplomacy made by Pope Francis and the entire Catholic Church for the establishment of peace in Ukraine. Spiritual support and prayers of His Holiness are vital for the Ukrainian people," the Head of State said.
Pietro Parolin thanked for a warm welcome. "I came to Ukraine to demonstrate and declare the interest, love and attention of Pope Francis with respect to Ukraine - a country suffering from war," the Cardinal Secretary of State of the Holy See emphasized.
The President thanked the Vatican City and personally Pope Francis for the humanitarian initiative to hold charitable fundraising in support of Ukraine in all Catholic churches of Europe on April 24.
Petro Poroshenko and Pietro Parolin have discussed the issue of human rights violation in the occupied Crimea.
The Head of State praised the decision of the EU on the prolongation of individual and sectoral sanctions for the next 12 months due to the annexation of Crimea by Russia.
ish