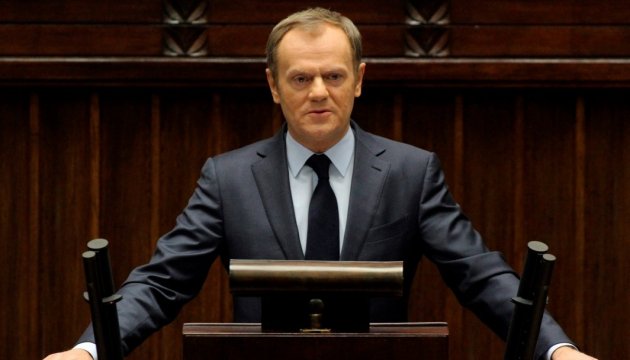 Tusk: EU and G7 sanctions against Russia to act until ongoing aggression against Ukraine ends
The sanctions imposed by the EU and G7 countries against Russia will act, and can be enhanced, until Russian aggression against Ukraine ends.
This is said in the report by the President of the European Council, Donald Tusk, on the results of work of the European Council from December 2014 to April 2016, released on Monday, an Ukrinform correspondent reports.
"During this difficult period, when our policy was challenged on many fronts, it was my goal to keep European leaders united and make sure that the EU stayed the course as regards Russia.... I have also engaged personally to ensure the unity of the G7 in response to Russia's aggressive posture and will continue doing so as long as this attitude remains unchanged. The G7 leaders confirmed this common stance at the summit in Elmau in June and made it clear that they stand ready to take further sanctions in order to increase the cost on Russia should its actions so require," Tusk notes.
He recalled that the EU leaders had decided to step up support for the peace process in Ukraine and to link the sanctions regime adopted against Russia to the full implementation of the Minsk agreements.
"In parallel, we have managed to lend a struggling Ukraine our support, including financial support, to assist the country's difficult path towards stabilisation, modernisation and reforms," the report reads.
ol