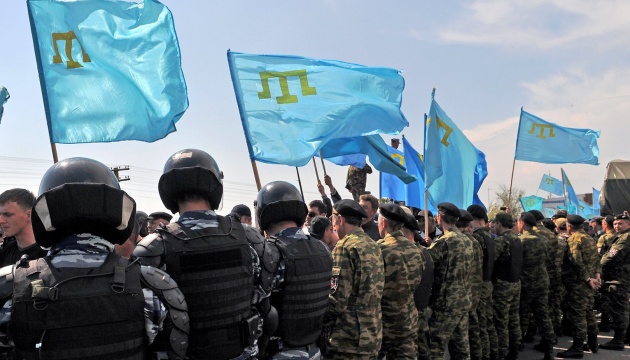 US disturbed by banning Mejlis, promises to keep sanctions against Russia
Washington expressed concern about the ruling of the so-called "Supreme Court of Crimea" to ban the activities of the Mejlis of the Crimean Tatar People designated as an "extremist organization" and vowed to continue the sanctions pressure on Russia until it liberates Crimea.
This was said by Deputy Spokesperson for the U.S. Department of State Mark Toner at the daily briefing in Washington, an Ukrinform correspondent reports.
"We're obviously disturbed by the reports banning the Mejlis because, frankly, it removes what little representation and recourse that the Tatars have left under Russian occupation," Toner said.
He reminded that the US had made a statement on April 21 and called on the Russian Federation to reverse "the ministry of justice's recent decision to designate the Mejlis as an extremist organization as well as a decision by de facto authorities in Crimea to suspend this democratic institution."
Toner stressed that the Crimean Tatars continued to face repression, discrimination and other forms of oppression in the occupied Crimea.
"These brutalities and human rights abuses must end," the U.S. Department of State representative said.
When asked about Washington's future steps in this regard, Toner noted that the U.S. sanctions against Russia would remain in place.
"We do not accept Russia's occupation of Crimea. Those sanctions will remain in place until Russia ends its occupation of Crimea. We also reaffirm our support for Ukraine's sovereignty," the U.S. Department of State representative said.
ol