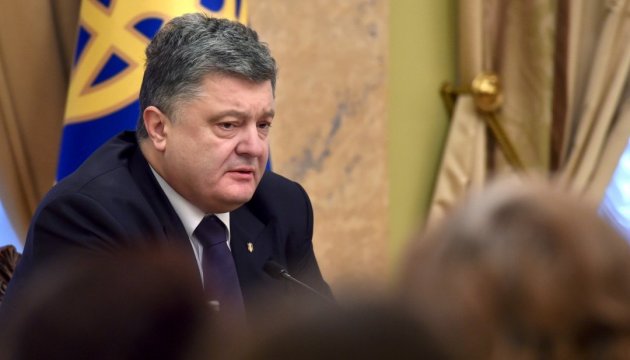 Poroshenko in Kyoto discusses year of Japan in Ukraine
Ukrainian President Petro Poroshenko and his wife Maryna Poroshenko in the scope of an official visit to Japan have visited the city of Kyoto. There President Poroshenko has hold a meeting with Governor of Kyoto Prefecture Keiji Yamada, Kyoto Mayor Daisaku Kadokawa and Chairman of Kyoto Chamber of Commerce and Industry Yoshio Tateishi.
"This hospitality corresponds to the spirit of strategic relations between Japan and Ukraine," Petro Poroshenko said and announced that that the year 2017 would be declared the year of Japan in Ukraine, the president's press service reports.
In particular, the sides discussed the enlargement of bilateral cooperation and holding of a range of events in the framework of the year of Japan in Ukraine in 2017.
According to President Poroshenko, this year it will be 25 years since Japan has recognized Ukraine's independence and established diplomatic relations with Ukraine. Moreover, 45 years ago "spiritual capitals of the countries - Kyiv and Kyoto – have begun the history of friendship and close exchange".
In addition, President Poroshenko has noted the role of Kyoto Mayor Daisaku Kadokawa in strengthening and developing the Ukrainian-Japanese relations – the creation of the Kyoto Park in Kyiv, which has become a favorite place of all Kyiv residents. This year, Kyiv and Kyoto will celebrate the 45th anniversary of sister-city relations with a range of cultural events.
iy