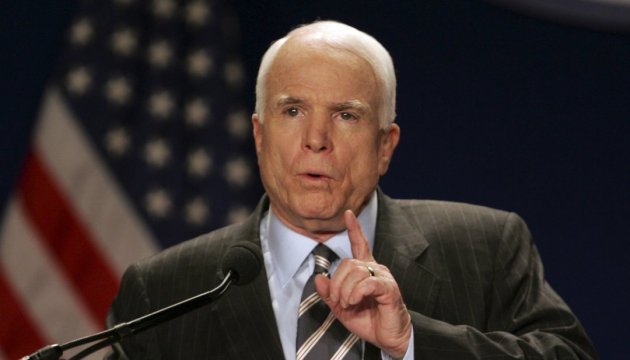 Senator McCain called on Kerry to secure release of Savchenko during talks in Moscow
Well-known U.S. Republican Senator John McCain (R-AZ) has sent an open letter to U.S. Secretary of State John Kerry, who traveled to Moscow, Russia, calling on Kerry to talk with the Russian authorities on setting Nadiya Savchenko free.
The text of the letter has been published on the official page of the Senator.
"I strongly urge you to make Ms. Savchenko's case a central element of the agenda. As you noted in your recent statement, her continued imprisonment and sentencing demonstrate a clear disregard for international law and violate Russia's commitments under the Minsk agreements," he noted.
The Russian government should receive a strong message of what it must fulfill its international commitments and to release Savchenko immediately, Senator McCain wrote.
" If Russia upholds Ms. Savchenko's sentence and continues its shameful and blatant breach of international law, I ask that you take all necessary steps to initiate targeted sanctions, as authorized under the Magnitsky Act, against those responsible for her kidnapping and illegal imprisonment, as well as officials involved in the fabrication of false charges against her," said the legislator.
In this regard he expressed hope that the head of American diplomacy would do everything necessary to secure the immediate release of Nadiya Savchenko.
Earlier, Ukrinform reported that U.S. Secretary of State John Kerry is holding talks now in the Russian capital. The main themes of the talks there are Syria, fight against ISIS and the Ukrainian issue.