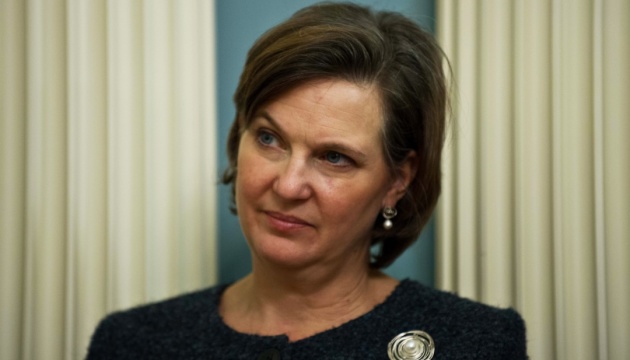 USA, IMF will not give money to Ukraine while political crisis lingers there - Nuland
Washington believes that Ukraine will root out corruption and total dependence of its economy from the oligarchs in 2016.
US Assistant Secretary of State Victoria Nuland said while speaking at a hearing in U.S. Congress, the Ukrinform's own American correspondent reports.
"We continue to believe that 2016 can and should be the year when Ukraine will be set free from the unholy alliance of dirty money and dirty politics that has robbed Ukrainians for far too long," said Nuland.
She noted that U.S. and the IMF backing for Ukraine would depend on reshuffling the central government, breaking away from substantial influence of oligarchs on Ukraine, as well as of anti-corruption reforms, notably in the General Prosecutor's Office and the judicial system in general.
She said that given the current political instability neither the U.S. nor the IMF could continue to provide financial assistance to Ukraine, the Assistant Secretary of State for European and Eurasian Affairs stressed.
In connection with this, she noted that this situation will continue "until we are convinced who will be our partner on the other side of the negotiating table."
Nuland also said that delays in Ukraine reforms are directly affecting the security situation in the country as well as guarding peace in the region.