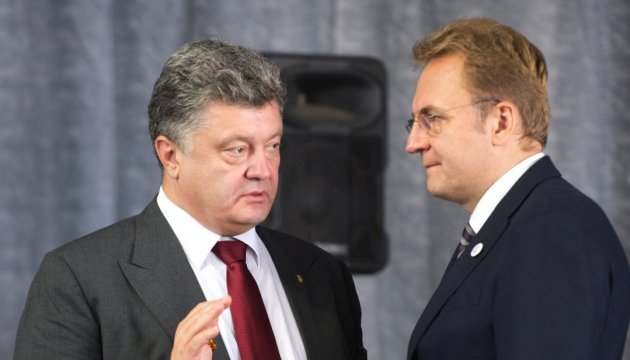 Party leader Sadovy spoke with President Poroshenko
The leader of the Samopomich party Andriy Sadovy was indeed invited to meet with President of Ukraine Petro Poroshenko.
Lviv city mayor's spokeswoman Khrystyna Protsak has confirmed information to Ukrinform.
"Sadovy is now in Kyiv, where he actually met with the President. However the theme of their converation is unknown: Sadovy's cellphone is switched off," said Protsak.
Earlier, the President's spokesperson Svyatoslav Tseholko wrote about this meeting on Facebook.
"Today the President meets with leaders of parliament factions, including the leader of the Samopomichl Andriy Sadovy. The purpose of the President's talks with political leaders is to accelerate resolution of the political crisis," wrote Tseholko.
The press secretary of the President noted currently there are three scenarios.
"1. Technocratic government led by N.Jaresko when pro-European factions unite around the technocratic government. 2. The political government, for example, headed by Lviv mayor A.Sadovy. The goal of this government is similar to the previous one – accelerating the pace of reforms. 3. If the parliamentary forces have other candidates, let them propose them and seek 226 votes in parliament," Tseholko said.
He also said that the President is ready to work with any candidate for premier whom the coalition would offer to him.