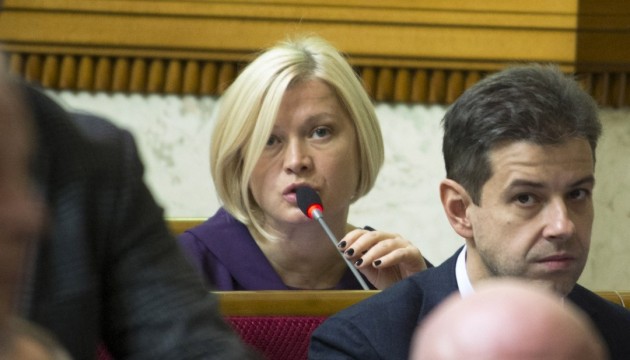 OSCE ought to toughen position to secure peace in Donbas at Minsk talks - Herashchenko
Iryna Gerashchenko believes that the OSCE has to demonstrate a tougher position to secure peace in Donbas at Minsk talks.
She told reporters today at a presentation of the report "The experience of conflict resolution in the world."
"We think that the OSCE as an organization created to secure peace, human rights, should take a tougher stance in talks held in Minsk. Not to defend the Ukrainian position, but its own position concerning violations committed by the Russian Federation," said Herashchenko.
She noted that the Ukrainian side has a very hard time at Minsk talks because of the fact that the OSCE takes a neutral position, the Kremlin seeks to act as an observer, and also the puppets of the Kremlin are present there.
Herashchenko said that "first, the puppets start talking, and then the same position is announced by the Russian side." She also said that the Minsk process is not an autonomous one, but it depends, primarily, on the Normandy format that defines the ways of peaceful settlement of the situation in east of Ukraine.
In this context Herashchenko hopes that a meeting in Munich in Normandy format will address not only security, but also the release of Ukrainian hostages.
She reminded that 136 people are now prisoners and 700 are considered missing persons in the occupied areas of Donbas.
Herashchenko noted that liberation of the hostages has been virtually frozen by the separatists now.