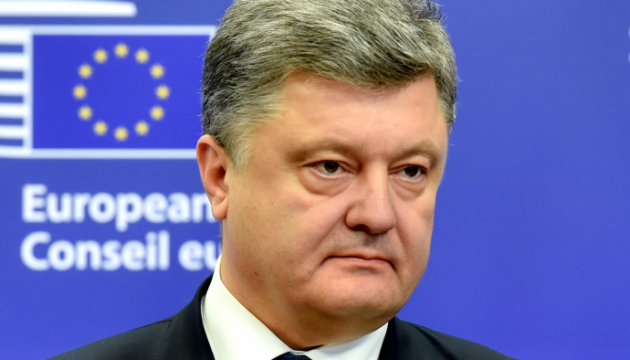 Poroshenko: EU or OSCE are to provide security at elections in Donbas
Preparation for the polls in the occupied territories of Donbas should include providing security during elections - or either by involving the security component of the EU or deploying the OSCE police personnel.
President of Ukraine Petro Poroshenko told Ukrainian television channels Sunday, Ukrinform reports.
"If we begin preparations for the elections, we have to organize two important things. First , security during the elections. In particular, it must be ensured by an international component, which we talked about during the resolution of the European Parliament (the European Parliament supported the security component in the presence of the EU representatives to provide security in Donbas - ed.), or the police component provided by the OSCE, which has to be deployed and provide this security," Poroshenko said.
He also emphasized that preparations for the elections should provide for a cancellation of the "elections" results of November 2, 2014 that were held in the occupied territories of Donbas.
The President noted that a Rada debate on the amendments to the Constitution of Ukraine regarding decentralization should be preceded by a number of other important preconditions. First of all, this relates to a ceasefire and a long period of silence.
"Russia should make it happen and the world ought to witness that these tasks are fulfilled," he said.
Also, Poroshenko called for a full and free access granted to the OSCE to weapons storage facilities and regaining of control over the uncontrolled section of the Ukrainian-Russian border, in the first phase, to be supervised by the OSCE as one of the precondition mentioned above.
The President has specially highlighted the necessity to release hostages, including those who are illegally imprisoned in the Russian Federation.
The President also said he welcomed the initiative of 53 MPs that prior to casting votes on the amendments to the Constitution as to decentralization, the implementation of a number of vital preconditions has to be completed.