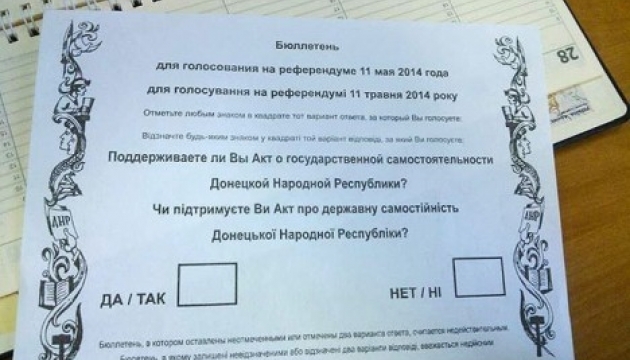 Four polls underway in Donetsk region, each of them called 'referendum'
KYIV, May 11 /Ukrinform/. Four opinion polls of citizens began in Donetsk region on Sunday, May 11. All polls are unofficial, but their organizers claim these are "referendums," the Novosti Donbassa (News of Donbas) online newspaper has reported.
"Four polls are simultaneously being held in Donetsk region, and each of them is called 'referendum,'" reads the report.
The first poll is being conducted by the self-proclaimed "Donetsk People's Republic," during which citizens are asked whether they want independence of the "republic." According to the "republic's" co-chairman, Borys Lytvynov, separatists managed to open 1,540 polling stations in the region. However, local media reports say that people are not in a hurry to participate in the "referendum," and many residents of Donetsk region do not even know exactly where they are invited to vote.
The second poll is being held by an initiative group of citizens called "For Peace, Order and Unity." According to the initiative group, residents of territorial communities of Donetsk and Luhansk regions will express their opinion on a possible change in the administrative-territorial structure of the state, followed by the inclusion of these communities in Dnipropetrovsk region.
The central election commission of this "referendum" has currently received the copies of addresses of more than 70 territorial communities of Luhansk and Donetsk regions to the Verkhovna Rada of Ukraine on amendments to the relevant legislation and changes in their administrative and territorial subordination. The poll will take place in the following populated centers of Donetsk region: Debaltseve, Yenakiyeve, Yasynuvata, Avdiyivka, Volnovakha, Novoazovsk, and Mariupol. In Luhansk region, the poll will be held in Alchevsk, Stakhanov, Brianka, Severodonetsk, Rubizhne, Kreminna, Starobilsk, and Svatove. Ballot boxes will be mobile.
In addition, polling stations will be open in all areas of Donetsk and Luhansk regions that are controlled by the Ukrainian army, the National Guard or law enforcement agencies.
The third poll is dedicated to preserving Ukraine's integrity. The fourth poll concerns the desire or reluctance of residents of Donetsk to join Britain, because British businessman John Hughes is the founder of the city of Donetsk. The city was originally named Yuzivka.
These two polls of citizens are being conducted in special tents put up in different areas of Donetsk region. All four polls do not have legal force and do not represent the opinion of the majority of residents of Donetsk region.
The Committee of Patriotic Forces of Donbas public initiative urged residents of the regions to ignore all polls on May 11.
"The so-called 'referendum' is being held illegally. Separatists have no voter lists and technologies for its holding. This is just a reason to declare your region independent of Ukraine and join it to Russia. The truth is that Russia does not need either Luhansk or Donetsk. It has no money to keep these regions as well. Russia is planning to create in them in the buffer zones for the placement of weapons, drug trafficking and the deployment of terrorists. You will live on the wasted land," the committee said in a statement.
ap