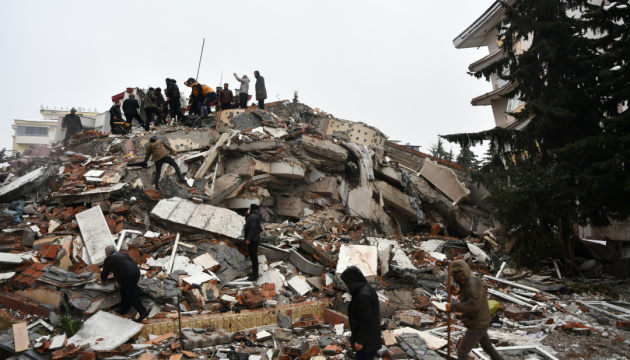 Ukraine offers Turkey help in quake rescue operation - Zelensky
Ukraine offered Turkey, which had suffered from a powerful earthquake, assistance in conducting a rescue operation.
Volodymyr Zelensky said this in an evening video address, Ukrinform reports.
"Today, very sad news came from Turkey and from the territory of Syria. There was a powerful earthquake. Many people died. Thousands of homes were destroyed. My sincere condolences to Mr. President of Turkey, Erdogan, as well as to those in the Syrian society who have lost their loved ones, who have lost their homes. Ukraine immediately responded and offered Turkey support in carrying out the relevant rescue operation," Zelensky said.
As reported by Ukrinform, two earthquakes rocked the southeastern part of Turkey on February 6: at 4:17, with a 7.7 magnitude and at 13:24 with a magnitude of 7.6.
In Turkey, a week of mourning was announced for the victims of the earthquakes, as a result of which the number of those killed reached 1,651, while more than 11,000 were injured.
Photo: AA