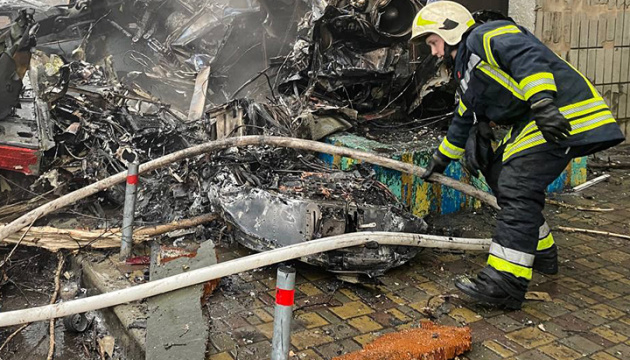 Brovary helicopter crash: Parliamentary committee reports on probe details
The black box decoding following a helicopter crash in Brovary on January 18 where the leadership of the Ministry of Interior were killed will be completed in the coming weeks.
This was announced by the head of the Parliamentary Committee on Law Enforcement, Serhiy Ionushas, who spoke on the air of the national telethon, an Ukrinform correspondent reports.
"We know that after such accidents, information from the black boxes is very important. I know that our law enforcement are already working with their French counterparts. I hope that in a week, two maximum, the black box data will be deciphered, and after that we will be able to learn about the top version of the deaths of (Minister - ed.) Denys Monastyrskyi and other officials in more detail," said the deputy.
According to him, the priority versions are pilot error and technical malfunction of the helicopter.
"The sabotage version has not been ruled out, but it is not a priority," Ionushas added.
He noted that the issue of the technical serviceability of helicopters is under special control as law enforcement have already taken certain procedural action in working this version out, in particular regarding the contracts based on which these helicopters were procured.
As reported by Ukrinform, on the morning of January 18, in Brovary a helicopter belonging to the State Emergency Service carrying nine people on board, including Minister of Internal Affairs Denys Monastyrskyi, his First Deputy Yevhen Yenin, and State Secretary of the Ministry of Internal Affairs Yuriy Lubkovych, crashed near a kindergarten and a residential building.
According to the latest data from the State Emergency Service, 14 bodies were found at the crash site, including that of a child and 10 people who were on board.