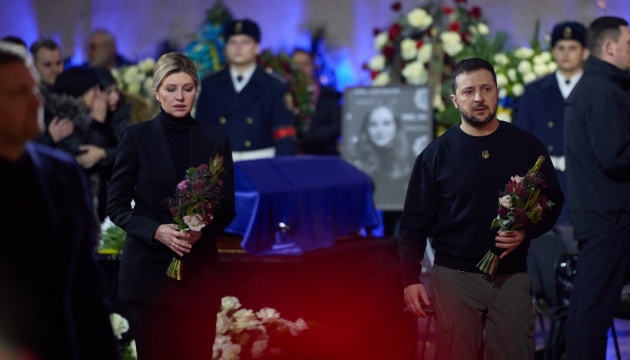 Zelensky on deadly helicopter crash: Every day, Ukraine loses its best people
President Volodymyr Zelensky, who took part in the funeral ceremony for the leadership and servicemen of the Ministry of Internal Affairs who died in the helicopter crash in Brovary, expressed his condolences to their families and noted that Ukraine loses its best sons and daughters every day.
The head of state wrote about this on Telegram, reports Ukrinform.
"Pain is filling the heart. The indescribable sadness is covering the soul. Ukraine is losing its best sons and daughters every day. Thank you for your important and decent work for the benefit of Ukraine. You are forever in our hearts. Eternal memory!" the president wrote.
Video: Office of the President of Ukraine
Earlier, Chairman of the Verkhovna Rada of Ukraine, Ruslan Stefanchuk, also noted that Ukraine had lost honest and worthy people who worked for the sake of their country.
In turn, Prime Minister Denys Shmyhal wrote on Telegram that the helicopter crash, in which 14 people died, left a scar in the soul of every Ukrainian.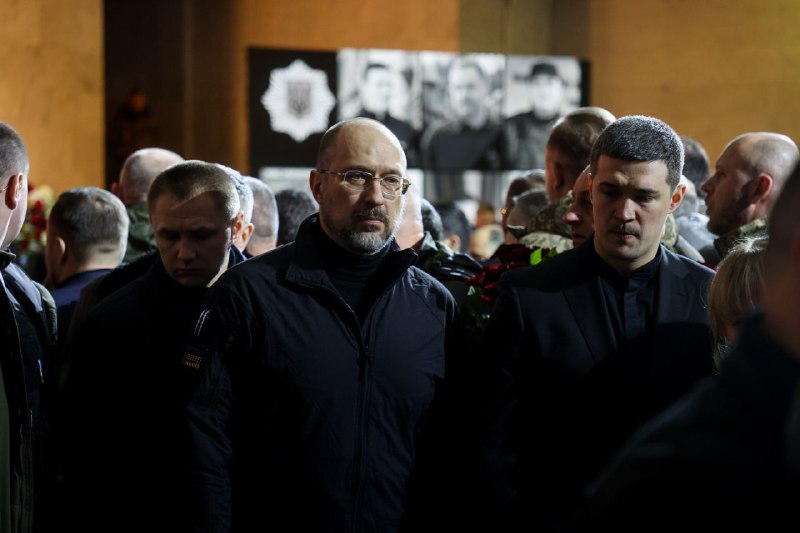 "Today we bid farewell to those who died as a result of the helicopter crash in Brovary. This tragedy left a scar on every Ukrainian. Some lost a mother, a father. And some lost a child. It is impossible to describe in words what a grief this is. Our colleagues are also among the victims of the disaster," Shmyhal noted.
According to him, this is a big loss for the government team.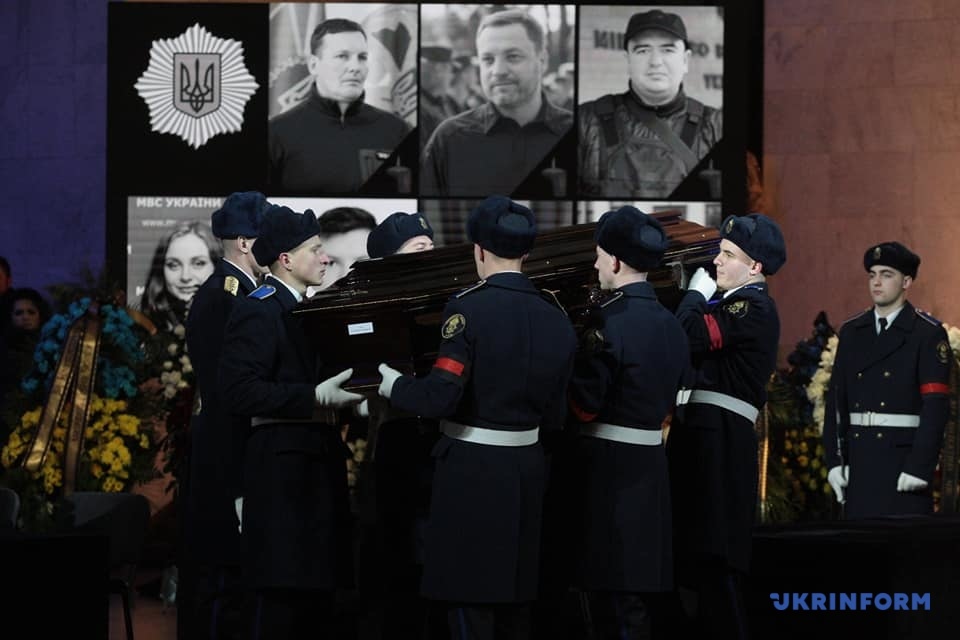 "Denys Monastyrskyi worked non-stop, every day, for the good of Ukraine. Just like his team. Yevhen Yenin. Yuriy Lubkovych, Tetiana Shutyak, Mykola Anatskyi, Mykhailo Pavlushko, Andriy Marynchenko. Patriots, professionals, devoted to their Motherland to the last. Rest in peace," the prime minister said.
As reported by Ukrinform, on the morning of January 18, in Brovary a helicopter belonging to the State Emergency Service carrying nine people on board, including Minister of Internal Affairs Denys Monastyrskyi, his First Deputy Yevhen Yenin, and State Secretary of the Ministry of Internal Affairs Yuriy Lubkovych, crashed near a kindergarten and a residential building.
According to the latest data from the State Emergency Service, 14 bodies were found at the crash site, including that of a child and 10 people who were on board.
Photo: Office of the President and Telegram/Denys Shmyhal