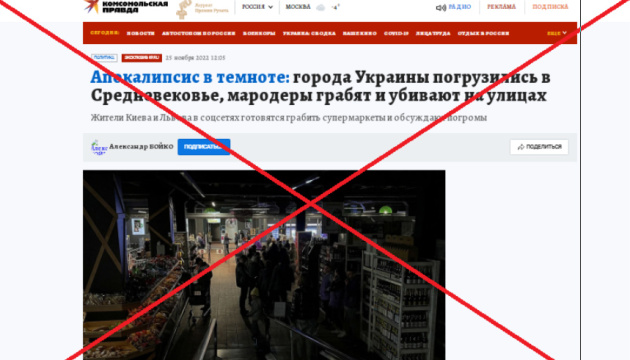 Russian media 'plunge Ukraine into Middle Ages' after blackout by inventing 'Apocalyptic pictures'
The National Police refuted a Russian fake about a crime spike in Ukraine due to power outages.
After Russia's massive missile attack on the Ukrainian critical infrastructure on November 23, a Russian state-owned propaganda media outlet reported that Ukraine allegedly "plunged into the Middle Ages", the number of murders rose and mass looting and abductions broke out in Lviv and Kyiv.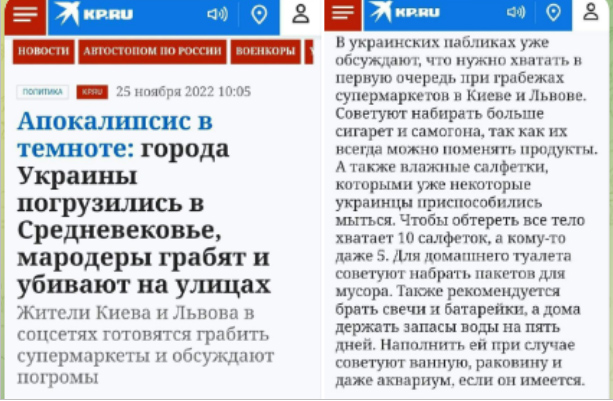 Describing the situation in Lviv city, the Russian propaganda reported that "people are kidnapped", "apartments are looted massively", "children kill their parents to take their small pension away". Meanwhile, in Kyiv "foreigners are kidnapped for ransom", "the apartments of antique collectors, especially those who have the Third Reich memorabilia, are plundered." The alleged anonymous sources from Ukraine and their publications on social media accounts were cited as "evidence", but no screenshots or links to those publications were provided.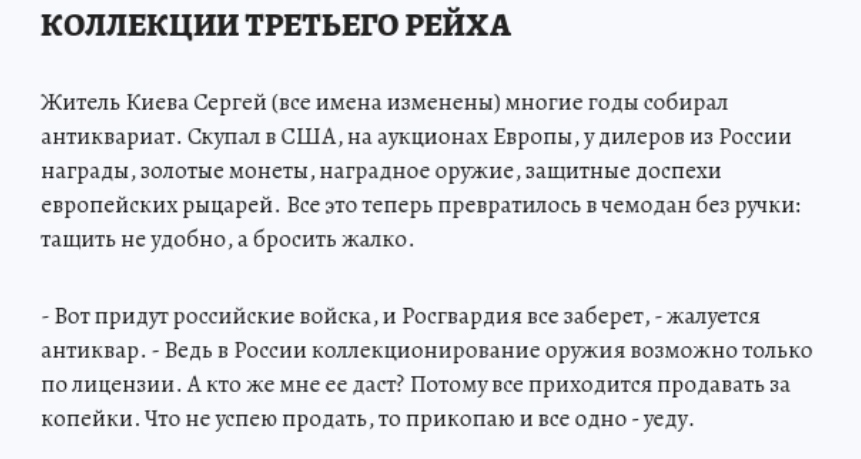 The real situation is completely the opposite. In particular, Minister of Internal Affairs of Ukraine Denys Monastyrskyy said that the National Police car and foot patrols had been increased threefold on the streets of Ukrainian cities during the power outages. The voluntary formations of territorial communities also helped maintain public order. Thanks to the measures taken, the crime rate across the country did not worsen.
Responding to Ukrinform's inquiry, the press service of the Main Department of the National Police in Kyiv City reported that no cases of murders on the streets or in public places and no cases of kidnapping or looting had been recorded in the capital from November 23 to 29. And the total number of thefts decreased compared to the same period in 2021 and October 2022.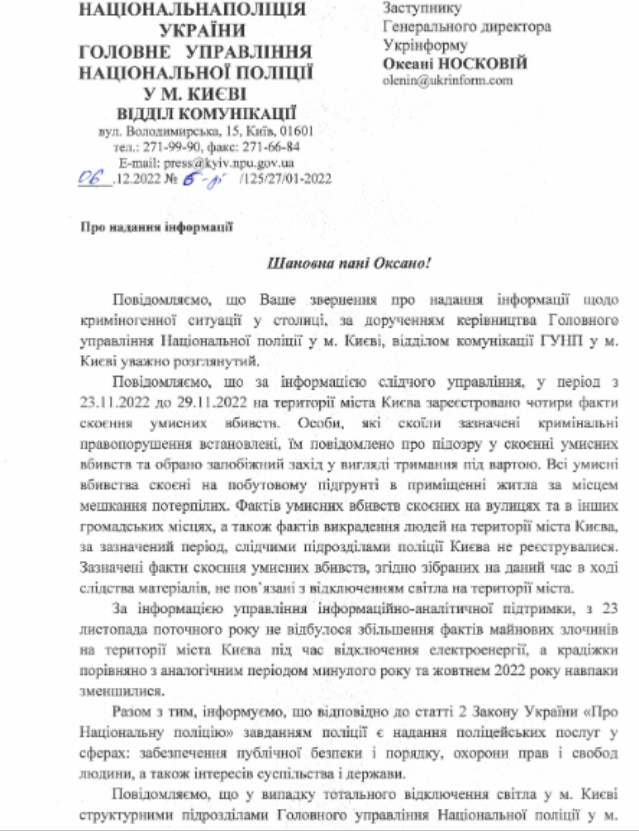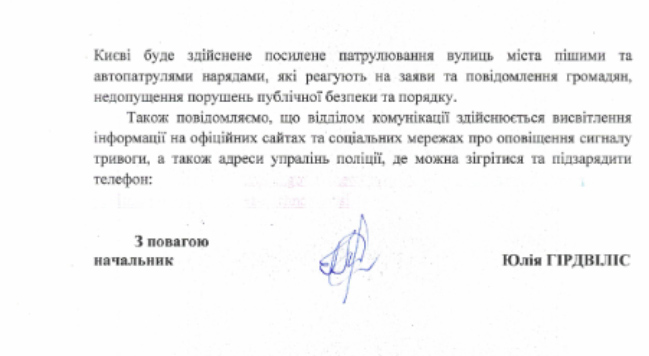 The situation in Lviv is similar. According to Svitlana Dobrovolska, Spokesperson for the Main Department of the National Police in Lviv Region, no cases of looting, kidnapping or murders related to the blackout were recorded. The Lviv police opened more lines for citizens' calls but their number remains at the usual level.
In general, in the week following the blackout, the National Police recorded a 13% decrease in the number of crimes across the country compared to the week before. In particular, the number of road accidents decreased by 13%, car thefts and fraud cases – by 24%, thefts – by 7%.
Earlier, the Ministry of Internal Affairs of Ukraine stated that the overall crime rate in the country in the first half of 2022 decreased by 25% compared to the same period last year.
Andriy Olenin