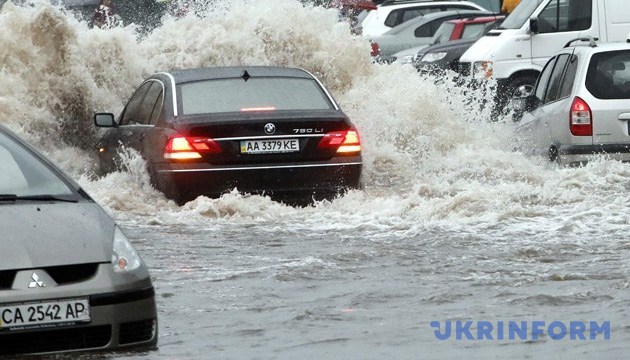 Natural disaster incidents on rise in Ukraine
Due to climate change, the number of natural disasters is growing in Ukraine and beyond.
That's according to the State Emergency Service of Ukraine, Ukrinform reports.
"There is a global trend toward the increasing number of natural disaster incidents. This is facilitated by a number of factors, in particular, the imbalance of the climate system due to climate change, human activities, physical and geographical features of certain territories. Natural disasters in most cases bring damage to the economies and also human losses, which is the worst thing. The specificity of these phenomena lies in their sudden and rapid nature," the statement said.
"According to the Hydrometeorological Service of Ukraine, 2,752 cases of natural meteorological emergency incidents were recorded across country throughout 2011–2020. The peculiarity of the last 10 years is the significant number of cases where rain, wind, and snow have met the natural disaster criteria," the statement reads.
Thus, due to climate change, in less than four hours on August 7, 2016, Odesa saw more than 90 mm of precipitation, while wind gusts reached speeds of 29 mps. As a result, residential households were de-energized, trees were felled, public transport services were disrupted, and part of the city was flooded due to clogged storm sewers. A man was killed by lightning in the village of Zatoka.
On June 22-23, 2020, rain intensity in Ivano-Frankivsk region stood at 106-168 mm, which led to catastrophic floods that brought casualties. As a result of the natural disaster, three people died, 250 settlements were flooded, agricultural lands were flooded, and economic facilities, including roads, bridges, and fortifications, were destroyed.
On July 28, 2017, a tornado recorded in Pereshchepyne and Kryvyi Rih, Dnipropetrovsk region, damaged the roofs of 81 residential households and 12 outbuildings and fell a number of trees.
In September 2017, hail the size of a chicken egg stunned Vinnytsia and Zhytomyr regions, damaging the roofs of private households and government service offices, as well as affected crops.
The SES reported that, based on the analysis of statistical data and forecast indicators, they identified a number of Ukrainian regions most likely to encounter natural meteorological phenomena.
Thus, Zakarpattia, Lviv, Chernivtsi, Ivano-Frankivsk, and other regions were included in the list of high flooding hazard areas.
As Ukrinform reported earlier, overnight Thursday, July 22, Odesa was hit by a heavy downpour, which complicated public traffic due to flooding across multiple streets, while the crews of the two inbound passenger airliners chose not to land at the local airport.
im