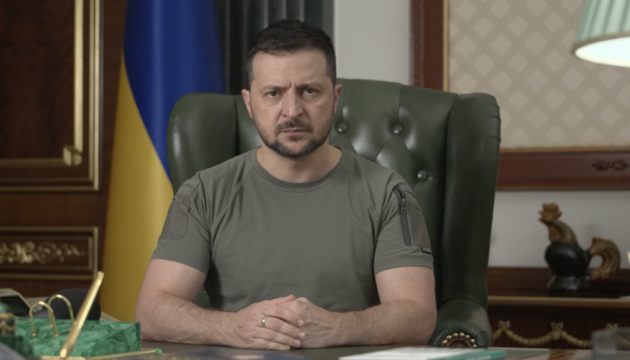 Zelensky at European Political Community summit: We must implement Ukrainian peace formula
Ukraine is only the first battlefield Russia has entered, but it is here that Russia must be defeated and the Ukrainian peace formula implemented.
"Ukraine is only the first battlefield this state has entered. And it is in Ukraine that it is necessary to defeat it. We must implement our peace formula. I presented it in my speech at the UN General Assembly. It must be fully implemented. The items of our peace formula neutralize everything that Russia does to fight," President of Ukraine Volodymyr Zelensky said in his address to the participants of the European Political Community summit in Prague.
According to Zelensky, it is necessary to punish the aggressor, increase sanctions against Russia, stop any cooperation with Russia and its companies. Russia must be expelled from all international organizations or its membership, its ability to distort the activities of international institutions, primarily the UN, must be suspended at least.
"Russia is making the United Nations a gathering of 192 who are simply forced to put up with one state lying and mocking and vetoing when it wants to block the UN's real ability to restore peace," the President of Ukraine stressed.
Zelensky underscored that a Special Tribunal for the crime of aggression by Russia against Ukraine and an international compensation mechanism must be established to punish the aggressor.
"The second is aid to Ukraine. By helping us, each of your states is helping itself. Look at the battlefield in Ukraine now – it is such an intense war that the absolute majority of states simply would not be able to wage it. And that is why this war must be won now – in Ukraine. So that the Russian fleet cannot block other ports in the Black Sea, the Mediterranean Sea or any other sea. So that Russian tanks do not advance on Warsaw or again on Prague. So that Russian artillery does not fire at the Baltic states. So that Russian missiles do not hit the territory of Finland or any other country. Such a threat exists. We reduce such a threat every day when we destroy the occupiers in Ukraine," he said.
Zelensky also pointed out the need to restore Ukraine's security and territorial integrity. "We do it. We do it together with you. With your help," the President added.
Since February 24, Russian full-scale military aggression has been ongoing in Ukraine. The Ukrainian troops are fiercely resisting the Russian invaders.
ol