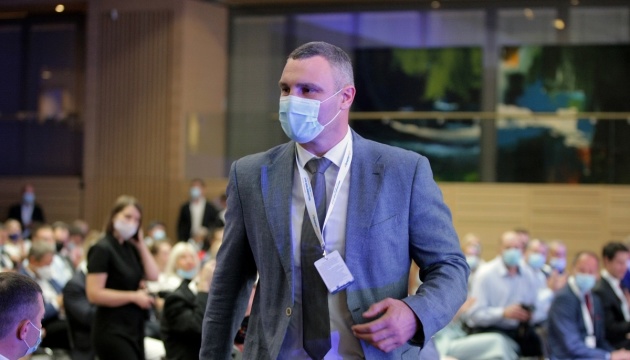 Klitschko has the best chance to win Kyiv mayoral elections – exit poll
The incumbent mayor of Kyiv city, Vitali Klitschko, has the best chance to win the Kyiv mayoral elections, according to an exit poll conducted by the Rating sociological group on the election day.
Director of the Rating sociological group Oleksiy Antypovych said this at a press conference while presenting the results of the polls, an Ukrinform correspondent reports.
"According to our data, the first place in Kyiv was taken by Vitali Klitschko (47.8%), the second one – by Oleksandr Popov (8.6%), the third place – by Serhiy Prytula (8.3%), and the fourth one was taken by Iryna Vereshchuk (8%)," Antypovych said.
According to him, among the political forces that will be able to enter Kyiv City Council, as evidenced by the results of the poll, are Vitali Klitschko's UDAR party (21.3%), the European Solidarity party headed by Maryna Poroshenko (18%), the Servant of the People party (9.5%), the Holos party (7.2%), the Unity of Oleksandr Omelchenko party (6.7%), the Opposition Platform - For Life party headed by Oleksandr Popov (6.7%), and the Batkivshchyna party led by Oleksiy Kucherenko (6.7%).
Representatives of the Rating sociological group interviewed 10,402 respondents at 100 polling stations in the capital.
As reported, on October 25, 2020, local elections are held in Ukraine. Ukrainians elect members of local councils, chairpersons of villages, mayors of towns and cities.
ish