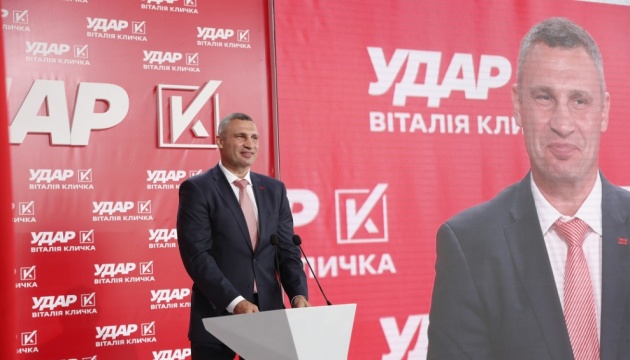 UDAR to participate in local elections independently - Klitschko
The UDAR party will participate in Ukraine's local elections independently, and any unification with other parties is possible only around the interests of Kyiv residents, Kyiv Mayor Vitali Klitschko has said.
"Friends, today I learned that some other political parties support my candidacy for Kyiv mayor. I am grateful for that, because to support or not to support someone is the right of every party or politician. I understand that many political parties today want Klitschko to be their mayor. I will clearly tell everyone again: I am and will be the mayor only of Kyiv residents! And I have always been responsible only before residents of Kyiv. Because they entrusted me with implementing changes in Kyiv, having elected me the mayor of the capital," he wrote on Facebook, commenting on a statement by the European Solidarity party in support of his candidacy in the local elections.
Klitschko stressed that the UDAR party would participate in the elections independently.
"We are not bargaining! Any unification is possible only around the interests of Kyiv residents. Because we work with Kyiv residents and for Kyiv residents!" he said.
Earlier reports said that the European Solidarity party would support incumbent Kyiv Mayor Vitali Klitschko in the Kyiv mayoral election.
op