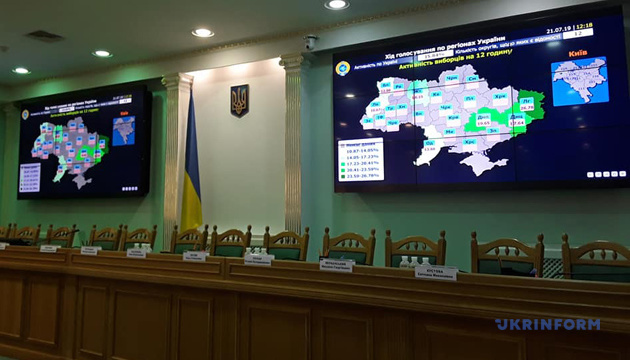 Voter turnout in Ukraine's parliamentary elections reaches 49.84%
Voter turnout in Ukraine's snap parliamentary elections has amounted to 49.84%, according to data from all 199 constituencies published on the website of the Central Election Commission.
Voters were the most active in Chernihiv region - 54.8%, Ternopil region – 54.21%, and Poltava region - 54.1%.
The lowest voter turnout was recorded in Zakarpattia region - 41.16%, Chernivtsi region - 42.06%, and Kherson region – 43.93
Voter turnout in Kyiv was 48.97%.
Early parliamentary elections were held in Ukraine on Sunday, July 21. According to the National Exit Poll conducted as of 20:00, five parties win seats on the Verkhovna Rada, in particular, Servant of the People (44.2% of the vote), Opposition Platform - For Life (11.4%), European Solidarity (8.8%), Batkivshchyna (7.4%) and Holos (6.5%).
op