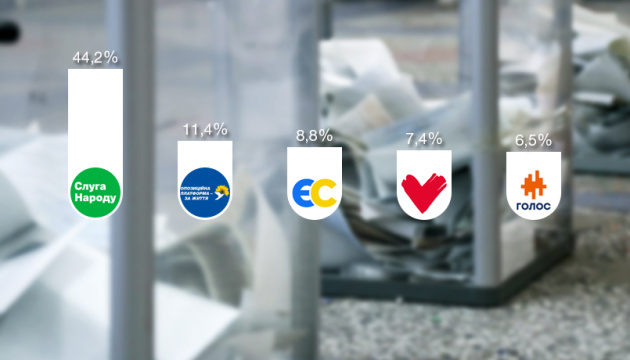 Five parties enter Ukrainian parliament – National Exit Poll as of 20:00
Five political parties win seats on the Verkhovna Rada, in particular, Servant of the People (44.2% of the vote), Opposition Platform - For Life (11.4%), European Solidarity (8.8%), Batkivshchyna (7.4%) and Holos (6.5%), according to the National Exit Poll conducted by the Ilko Kucheriv Democratic Initiatives Foundation, Kyiv International Institute of Sociology and the Razumkov Center as of 20:00.
The results of the poll were made public at a press conference at Ukrinform on Sunday, July 21.
The Strength and Honor party, which gained 4.3% of the vote, is closest to overcoming the 5% electoral threshold.
A total of 11,629 respondents were interviewed at 300 polling stations.
About 39 respondents were interviewed on average at every polling station.
op