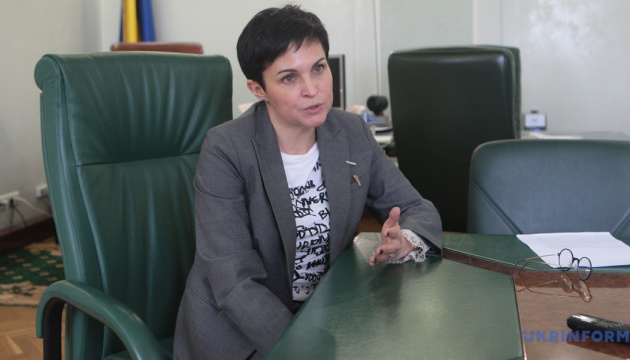 Constitutional Court cannot stop elections – CEC head
The Constitutional Court of Ukraine cannot stop parliamentary elections by its decision, but it may only determine the constitutionality of a presidential decree on the dissolution of the Verkhovna Rada, Head of the Central Election Commission (CEC) Tetiana Slipachuk has said.
She said this in an interview with BBC News Ukrainian.
"The Constitutional Court is the only body that can decide whether this presidential decree was constitutional or not. We will have to analyze this decision, to think about what we have to do, and how we should behave. Because the Constitutional Court cannot stop the elections by its decision. It can simply determine the constitutionality of the decree, nothing more," she said.
According to Slipachuk, then the CEC will need to understand the reasons for this decision in order to take the necessary steps.
"If they [Constitutional Court judges] declare that the decree does not comply with the Constitution, it means that there is no such decree and it also means that I have no legitimate reason to spend public funds. Many questions will arise. [...] We are really now in a very difficult situation because the process of preparation for the elections has started. It cannot be postponed or suspended for some time. Now we are at the final registration stage that ends on June 20. Next, we have five days to actually complete the registration and make the necessary decisions. It will be June 25. And then we will need to decide on the form of the ballot paper, and we will move on to the next stage," she added.
On May 21, Ukrainian President Volodymyr Zelensky signed a decree on the early termination of parliamentary powers and the calling of snap elections for July 21. One of the reasons for the dissolution of the parliament was the absence of a parliamentary coalition.
On May 24, People's Front MPs tabled in the Constitutional Court a motion with 62 signatures of people's deputies regarding the unconstitutionality of a presidential decree on the early termination of powers of the Verkhovna Rada.
On June 4, the Grand Chamber of the Constitutional Court started considering the case concerning the constitutionality of the decree "On the early termination of powers of the Verkhovna Rada of the 8th convocation and the calling of early elections."
Verkhovna Rada Chairman Andriy Parubiy insists that the parliamentary coalition included 227 people's deputies before the People's Front faction left it on May 17.
He also said that he had already handed over to the Constitutional Court a document on the size of the coalition.
The parliament speaker also added that apart from two factions, the coalition also included many independent lawmakers.
op