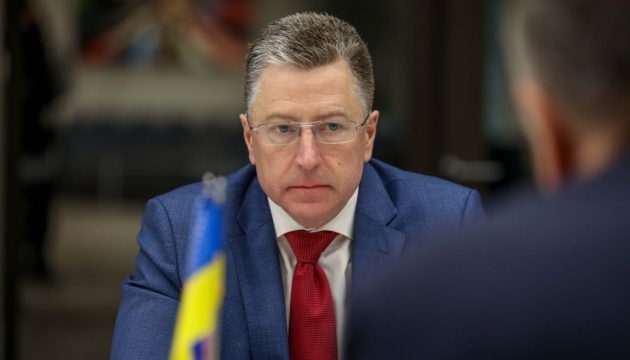 Volker on Ukraine's election results: We support principles, not candidates
We do not support candidates, we support principles: reforms, commitment to the Minsk process and the euro-Atlantic orientation of Ukraine.
U.S. Special Representative for Ukraine Negotiations Kurt Volker made a corresponding statement in Budapest, the Válasz Online media outlet reports.
"We do not support individuals and candidates, we support principles," he said.
According to Volker, incumbent President of Ukraine Petro Poroshenko did more of reform in the past four years than had been done in Ukraine for the proceeding twenty years and did not try to rig the election. Now, the world partners of Ukraine have to cooperate with the president-elect.
"They [Ukrainians] want more change, faster and Zelensky ran his campaign on the basis of promising integrity and reform… The people voted for that, massively, so they now have an expectation on him," the diplomat noted.
According to Volker, the newly-elected President of Ukraine may lose the support of Ukrainians if he agrees to a suggestion of Russia that Ukraine should give up certain territories in exchange for peace: "People's view of Zelensky would change very fast if he suggested he would do that. He has, in fact, said the opposite. He said that he will insist on the full restoration of Ukraine's sovereignty and territorial integrity and he supports the process that is already in place to do that. Doing otherwise would turn people against him very quickly," the U.S. Special Representative said.
Volker also underscored the importance of the deployment of a UN peacekeeping mission in Donbas, calling it "the best way forward."
Summing up, Volker pointed to the significance of the development of Ukraine through the fundamental reforms: "Ukraine needs to continue to develop economic reform, political reform, security sector reform and resilience as a country. We hope that there can be an effective process for ending the war in the East as well, that Russia can conclude peace but whether or not Russia does that, it is still about helping Ukraine be a successful and sustainable country."
As reported, the run-off of Ukraine's presidential elections was held on April 21. Volodymyr Zelensky won the elections as he garnered 73.22% of the vote. Meanwhile, 24.45% of Ukrainians cast their votes for Petro Poroshenko.
ol