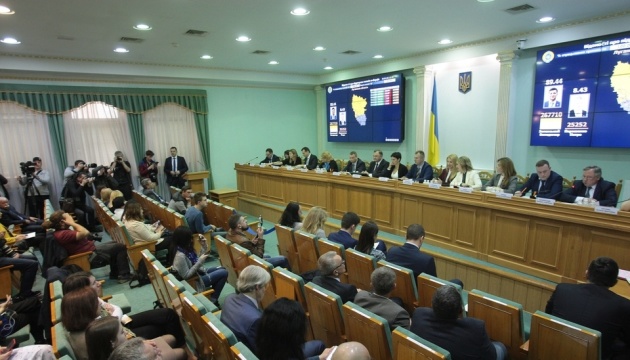 Volodymyr Zelensky wins Ukraine's presidential election – CEC
The Central Election Commission (CEC) has announced the final results of Ukraine's presidential election. Volodymyr Zelensky was elected president of the state.
The relevant protocol was signed at a CEC meeting on Tuesday, April 30, an Ukrinform correspondent reported.
"According to the results of the presidential runoff voting, presidential candidate Volodymyr Zelensky was elected the president of Ukraine," Head of the Central Election Commission Tetiana Slipachuk stated.
The protocol was drawn up based on the results of 100% of the protocols submitted by the district electoral commissions following the results of the second round of Ukraine's presidential elections of April 21. It was signed by 15 of 16 CEC members present at the meeting on Tuesday. CEC member Iryna Yefremova was absent for valid reasons.
According to the results of the runoff election, Volodymyr Zelensky won the presidential election, as 73.22% of voters or 13.541,528 Ukrainian citizens voted for him.
24.45% of voters or 4.522,450 Ukrainian citizens cast their votes for incumbent President of Ukraine Petro Poroshenko.
The voter turnout in Ukraine was 62.07%, abroad - 13.33%.
According to the Ukrainian legislation, the inauguration ceremony is to be held no later than 30 days after the date of the official announcement of the results by the CEC.
ish