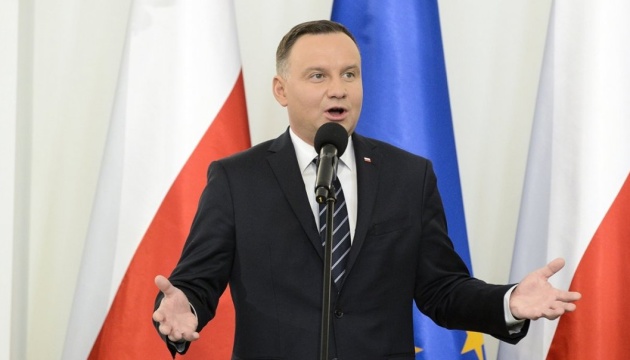 Duda congratulates Zelensky on victory, invites him to Poland
Polish President Andrzej Duda has congratulated Volodymyr Zelensky on winning Ukraine's presidential election and invited him to visit Poland, the Chancellery of the Polish President has reported on Twitter.
"President Andrzej Duda has congratulated President-elect Volodymyr Zelensky by phone and invited him to Poland," the report notes.
Duda said in a letter of congratulations to Zelensky that the Ukrainians' choice had shown expectations of the Ukrainian society regarding the intensification of government actions in matters of political and economic reform, security and stabilization in the country.
"I am convinced that he will reaffirm Ukraine's road to the Euro-Atlantic community," Duda said.
He noted that Poland and Ukraine are united by sympathy and common history, Warsaw is showing solidarity with Kyiv in the light of Russian aggression in Ukraine and is making efforts to bring Ukraine closer to the EU and NATO.
"I want to assure you that Poland is ready and will continue to provide overall assistance to Ukraine in the area of security and state reform. You can rely on my personal involvement here," Duda said.
He also expressed hope that the election of the new president of Ukraine would lead to a new look at the common history of the two peoples.
"I deeply believe that your cadence will bring positive changes in this area," Duda said.
He also expressed hope that during the presidency of Zelensky the importance of Ukraine in the region would be strengthened, while Polish-Ukrainian relations would be brought to a new and successful stage.
With nearly 91% of ballots counted in Ukraine's presidential election, Zelensky wins 73.17% of the vote, whereas the incumbent head of state, Petro Poroshenko, gets 24.5% of the vote.