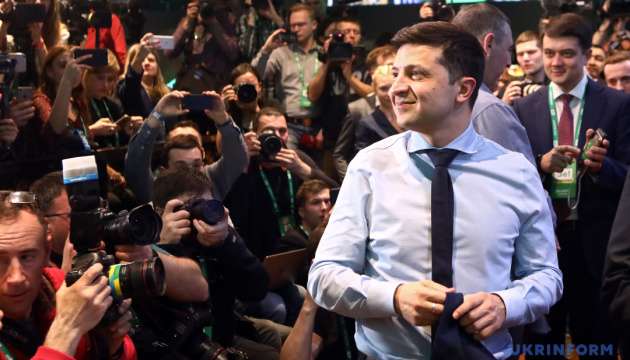 Zelensky gets 73.2% of vote, Poroshenko 25.3% in presidential run-off – National Exit Poll
Showman Volodymyr Zelensky gets 73.2% of the vote in the second round of Ukraine's presidential election, whereas incumbent head of state Petro Poroshenko receives 25.3%, according to the National Exit Poll conducted by the Ilko Kucheriv Democratic Initiatives Foundation as of 18:00.
At the same time, 1.5% of respondents said they had crossed out both candidates or spoiled the ballot.
The results of the National Exit Poll were announced at a press conference at Ukrinform on Sunday.
The field stage of the study "National Exit Poll 2019" is carried out by two leading Ukrainian sociological companies - the Kyiv International Institute of Sociology and the Ukrainian Center for Economic and Political Studies named after Oleksandr Razumkov.
The sample is representative for Ukraine as a whole and for its four regions (west, center, east, and south). The number of polling stations is 300 (150 for each sociological company). Two or three interviewers worked at every polling station. The total number of them is about 750. About 13,000 respondents were interviewed.
The method of "secret voting" was used since it reduces the number of refusals and greatly increases the reliability of the exit poll data.
The statistical margin of error, taking into account the design effect, does not exceed 1.3%, but there are still systematic errors that depend on various factors (honesty of respondents, weather conditions, etc.). Based on the experience of previous exit polls conducted under the same methodology, sociologists assume that the margin of error does not exceed 3%.
op