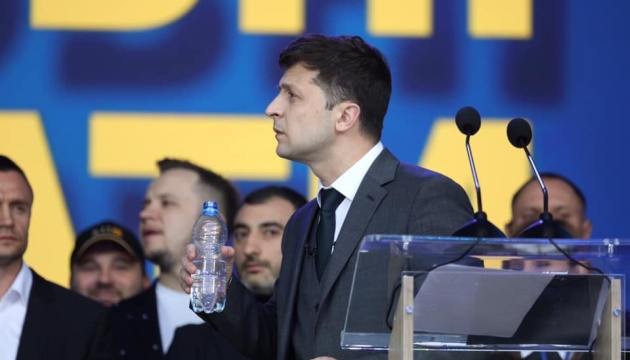 Zelensky says he will imprison Kolomoisky if he violates law
Ukrainian presidential candidate Volodymyr Zelensky has said that if he is elected head of state, he will imprison everyone who violates the law, including his business partner, oligarch Ihor Kolomoisky.
He stated this during a presidential debate at the Olimpiyskiy Stadium in Kyiv on Friday, when asked by incumbent President Petro Poroshenko whether he is ready to help bring Kolomoisky to account for the money that he withdrew from PrivatBank, according to an Ukrinform correspondent.
"As for Mr. Kolomoisky, I will say that all the people who violate the law, including the Svynarchuks-Hladkovskys, and if Kolomoisky is also among them, then they will all be put behind bars. However, they will be imprisoned not within two weeks, but when they break the law," Zelensky said.
He also stressed that he was running for the presidency for one term and added that the state should be headed by an ordinary person, rather than an oligarch.
The second round of presidential elections in Ukraine will be held on April 21.