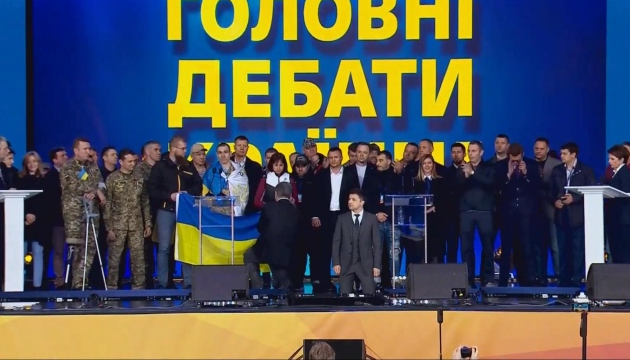 Zelensky, Poroshenko get on their knees during presidential debate
Ukrainian presidential candidates Volodymyr Zelensky and Petro Poroshenko have got on their knees on the stage of the Olimpiyskiy Stadium during a presidential debate.
According to an Ukrinform correspondent, they did so after President Poroshenko asked his opponent when he will apologize to Ukraine.
Zelensky, in turn, denied that he was talking about the alleged readiness to kneel before Russian President Vladimir Putin. He said that he was ready to kneel, but asked "not to bring Ukraine to its knees."
Then, he was down to his knees in front of the people to honor the Ukrainians who died in Donbas.
At the same time, Poroshenko also got on his knees, but with his face to the state flag that was held by his supporters.
op