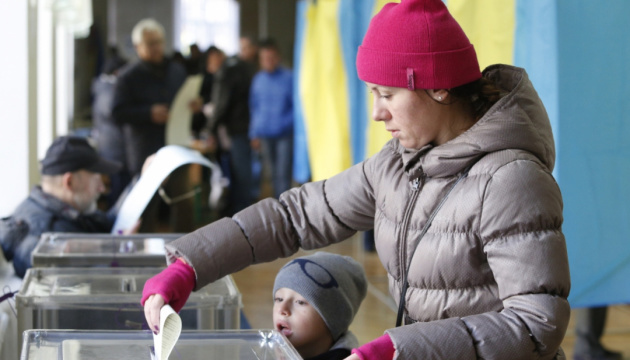 Ukraine Election: NDI and IRI Press Conference on Preliminary Observation Findings
PRESS CONFERENCE:
WHO: The leaders of the National Democratic Institute (NDI) and International Republican Institute (IRI) international election observation missions.
WHAT: Release of statements on preliminary observation findings on Ukraine's April 21, 2019 presidential election.
WHEN: Monday, April 22. NDI at 16:00. IRI immediately following.
WHERE: Hyatt Regency Kyiv (Ally Tarasovoi St, 5, Kyiv, 01001), Ballroom.
RSVP: Please register for the press conference online: English Registration form, Ukrainian registration form. Please refer all questions to Jerry Hartz, jhartz@ndi.org, Mariam Halstian, mhalstian@ndi.org, and Sam LaHood, slahood@iri.org.
KEY INFORMATION FOR MEDIA:
PRESS CONFERENCE: The National Democratic Institute and International Republican Institute international election observation missions will be releasing preliminary observation findings in back-to-back press conferences.
SCHEDULE: 16:00-- NDI press conference starts followed by the IRI press conference
AUDIOVISUAL INFORMATION: All cameras must be set up before 16:00. Mult boxes, also known as 'press boxes', will be available for sound.
BACKGROUND
National Democratic Institute:
William Taylor, former U.S. ambassador to Ukraine and executive vice president of the United States Institute of Peace (USIP); Audrey Glover, chairman of the Foreign Policy Centre and former director of the Organization for Security and Cooperation in Europe's Office of Democratic Institutions and Human Rights (OSCE/ODIHR); Laura Jewett, NDI's regional director for Eurasia; and Mary O'Hagan, global associate and NDI senior resident director in Ukraine, will speak on behalf of NDI's election observation mission. NDI's 31-member delegation includes political leaders, diplomats, former elected and government officials, and regional and electoral experts from 11 countries. The delegation's preliminary election statement builds on the work of NDI's election observation mission to Ukraine's March 31, 2019 first round presidential election, NDI's pre-election assessment mission conducted in November, as well as the findings of long-term analysts who have been in Ukraine since January.
International Republican Institute:
U.S. Congressman John Shimkus of Illinois, David Kramer, Board Member of the International Republican Institute and former Assistant Secretary of State for Democracy Human Rights and Labor, and Stephen Nix, IRI Eurasia Regional Director, will speak on behalf of IRI's international election observation mission. IRI's 28 short-term and 12 long-term observers include a member of the U.S. Congress, former ambassadors, thought leaders, and senior IRI leadership. The delegation will review all phases of the electoral process, also taking into consideration observations made by IRI's long-term observers. This delegation will add to the work already completed by the IRI International Observation Mission to Ukraine's March 31, 2019 first-round presidential election.