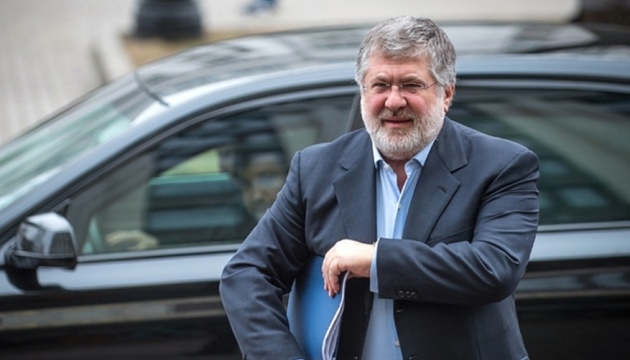 Kolomoisky to return to Ukraine if Zelensky becomes president - media
Ukrainian business oligarch Ihor Kolomoisky will return to Ukraine if Volodymyr Zelensky wins the presidential election.
Kolomoisky said this in an interview with the Schemes program, according to Radio Free Europe/Radio Liberty.
"Well, I planned to come back soon, but there are now all sorts of cases. [...] I planned to return to Ukraine between the first and second round, and even before the first round. But because of such a sharp political struggle [...] and in order not to bother and disturb anyone, I decided to sit quietly here and not to annoy anyone in Ukraine," Kolomoisky said.
In addition, journalists of the Schemes program found out that current and former well-known Ukrainian politicians had recently met with Kolomoisky, who now lives in Israel.
In particular, Vitaliy Khomutynnik, an MP and a leader of the Vidrodzhennia group, and his colleague, Andriy Shypko, were noticed near the office of the oligarch and his home. Kharkiv Mayor Hennadiy Kernes and businessman Pavel Fuks, as well as Eduard Stavytsky, former minister of energy and coal industry under President Viktor Yanukovych, also met with Kolomoisky.
In addition, journalists established that on February 14, MP Serhiy Liovochkin arrived on a private plane from Tel-Aviv to Kyiv. The day before, on February 13, Kolomoisky celebrated his 56th birthday in Israel.
The Schemes program turned to Kolomoisky for comment regarding the purpose of the visits of the aforementioned persons to the business center where his office is located and to his home.
"The oligarch confirmed that deputies from the Vidrodzhennia group came to see him. But he said the meeting with MP Shypko was connected with his local business interests at an election constituency. [...] At a meeting with Khomutynnik, according to the oligarch, they discussed the prospects of the Vidrodzhennia Party to which, he said, he has never concealed his sympathy," the article reads.
Kolomoisky also explained Kernes' arrival by the desire to drink coffee together.
As for Liovochkin's visit, he said: "It was also a great surprise for me. That is, I have never been invited to his birthday, and he seems to be present at mine just one time when I was 55, and here he again arrived for my birthday. Well, he came with Palytsia together. [...] There were many people. Therefore, when Palytsia says that Liovochkin came to Israel, I say: 'Well, okay.' I called him and said that I had a birthday. So, I invited him to my birthday. He came. We had a good time."
op