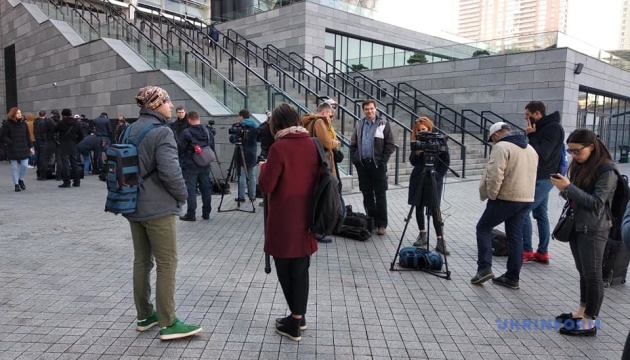 Olimpiyskiy deputy director general: We still have not received any applications regarding debate
The National Sports Complex Olimpiyskiy has not received any official applications for hosting a debate between the presidential candidates at the stadium.
Deputy Director General of the NSC Olimpiyskiy Viktor Anisimov stated this at a briefing on Friday, an Ukrinform correspondent reported.
"We still have not received any official applications for arranging a debate at the NSC Olimpiyskiy. Applications have been received neither from the Central Election Commission nor the Public Television, the organizer of debates according to the legislation," Anisimov said.
Speaking about the cost of debates at the stadium, he noted that it is impossible to determine the cost because there are many components that influence the final sum.
"It's impossible to determine the cost, as there is no technical task, which is needed in order to properly conduct the debate. But at the same time, the NSC Olimpiyskiy has all technical capabilities to arrange the debate if the respective decision is made at the highest level," said Anisimov.
The deputy director general of the NSC Olimpiyskiy also assured that the stadium administration remains apolitical.
As earlier reported, according to the official voting results, Volodymyr Zelensky got 30.24% of the vote, Petro Poroshenko – 15.95%. On April 3, Zelensky invited Poroshenko to a debate before the second round of presidential elections. Zelensky stressed that the debate should take place at the Olimpiyskiy stadium in Kyiv, in the presence of all interested journalists and television channels.
Poroshenko, in his video address, reminded that according to the rules of the debate stipulated in the law on presidential elections, it can be held on public television and broadcast on all television channels. "But if it's the stadium, let it be the stadium," Poroshenko said.
iy