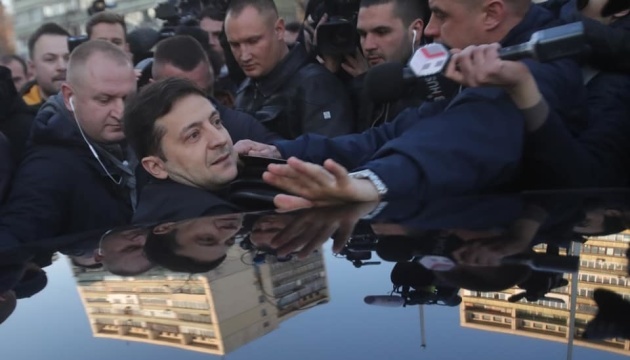 Zelensky proposes Tymoshenko moderate his debate with Poroshenko
Presidential candidate Volodymyr Zelensky has proposed that Batkivshchyna Party leader Yulia Tymoshenko work as a moderator during his debate with incumbent head of state Petro Poroshenko at the Olimpiyskiy National Sports Complex.
He stated this in a video posted on the Facebook page of the Zelensky team on Thursday, April 4.
"To avoid bribery, provocations, administrative pressure, we propose appointing a separate, independent arbitrator and a presenter for the debate. Yulia Tymoshenko, you took third place in the first round and did not support any of the candidates. Can you become a guarantor of honest rules and equal opportunities at the debate? I'm waiting for your response within 24 hours," Zelensky said.
"This debate is a chance to unite Ukraine and glorify it to the whole world as a free, democratic country," Zelensky said.
As reported, presidential candidate Volodymyr Zelensky said on April 3 that a debate with another candidate for the post of head of state, Petro Poroshenko, should take place at the Olimpiyskiy Stadium.
Poroshenko, in turn, recalled that according to the law on presidential elections, a debate could be held on public television and broadcast on all TV channels, but agreed to hold the debate at the stadium.
The Central Election Commission processed 100% of ballots in the March 31 elections. According to these data, Zelensky collected 30.24% of the vote and Poroshenko received 15.95% of the vote.
op